Probe measures laser power from 200 to 10,000 W.
Press Release Summary: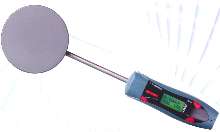 Comet handheld, laser power probe provides absolute accuracy of ±5% at calibrated wavelengths. It is calibrated for CO
2
, YAG, and Diode lasers with spectral range of 10.6 µm for CO
2
and 800-1064 nm for YAG type lasers. Linearity with power is ±2% from 1-10 kW. Probe handle swivels ±90° with regards to absorber head. Several measurements can be taken before probe needs to be cooled. LCD display in handle is 2 x 8 with 5 mm characters.
---
Original Press Release:

High Power Laser Power Probe Measures to 10,000 Watts


Wilmington, MA August, 2003...Ophir Optronics, Inc. announces the introduction of the Comet, a handheld, high precision, and high power, laser power probe that measures laser power from 200W to 10,000 Watts.

The Comet provides and absolute accuracy of ±5% at calibrated wavelengths. The Comet is calibrated for CO2, YAG and Diode lasers with a spectral range for CO2 of 10.6µm and 800-1064nm for YAG type lasers. Linearity with power is ±2% from 1KW to 10KW. The probe handle swivels ±90 degrees, with regards to the absorber head for ease-of-use. The probe is easy and safe to use for hands free operation in AUTO mode. Several measurements can be taken before the probe needs to be cooled.

The display is a 2x8; 5mm character LCD, which is integrated into the handle. The probe will store the last three readings made. The Comet probe is powered by two AA batteries with a project battery life of 1-year under normal use.

The Company
For more than 20 years, Ophir Optronics, Inc. has set the standard for the measurement of laser power and energy. Ophir, an ISO 9002 company, employs over 120 engineers, technicians and skilled workers. The company manufactures optical instrumentation, optical components and non-contact optical equipment for distance measurement and three-dimensional mapping of objects. The company's products are sold worldwide in over 25 countries. Ophir maintains marketing, sales and service centers in the USA, Japan, Israel and Germany.

Contact: Dick Rieley (Ophir Optronics. Inc.)
Tel: 800-383-0814
Fax: 978-657-6054
E-Mail: sales@ophiropt.com
URL: www.ophiropt.com

More from Thermal & Heating Equipment