Pro Pad Inc. Releases an Industry First: a Heated Seat Pad Using "Smart" Heating Technology.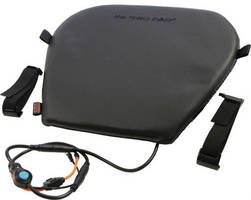 Pro Pad Inc. has released their latest product, the heated gel pad. Using "smart" heating technology, Pro Pad Inc. has for the first time ever, integrated a heating element into a gel pad. This technology senses hot spots and redirects heat to a cooler area preventing build-up for a more evenly heated seat pad

Available in rich leather or leather-like vinyl, each pad features a simple waterproof on/off switch and two disconnects. With two side straps and one for the front, installation is a breeze. The heated gel pad helps you fend off cold as well as seat discomforts.

Pro Pad Inc. came into existence in February 1999 in Mooresville, NC and is now one of the leading suppliers of motorcycle parts and accessories on the web. Along with seat pads, motorcycle gel inserts, and motorcycle flag mounts; the company also sells one of the loudest motorcycle air horns in the industry. The mini-beast air horn produces an unequaled 128 decibel blast capable of alerting everybody in a large radius around your motorcycle. When it comes to motorcycle seat pads and motorcycle accessories, Pro Pad Inc. is unrivaled in the industry. Whether riding across the country or across town, Pro Pad Inc. will keep you riding in comfort and style. For more information on the full Pro Pad line please visit Pro Pad's website www.thepropad.com/ or contact by phone at 1-800-403-2714.

More from Software