Printing System is suited for use on primary packaging.
Press Release Summary: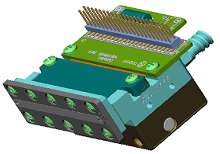 SolidJet(TM) system consists of Trident-powered SolidJet(TM) printhead and SolidMark(TM) crayon-like, wax-based, solid ink. Melted into liquid state, ink re-solidifies in less than 1 sec on packaging and will not rub off. It is safe for use on food, pharmaceutical, and cosmetic packaging. Printhead is capable of printing barcodes and up to 4 lines of alphanumeric text. It offers stainless steel construction with compliance chamber that provides shock resistance.
---
Original Press Release:

Trident Launches SolidJet Printing System for Inkjet Printing of Primary Packages


System features crisp print quality and durable industrial design

Brookfield, CT. (June 2, 2003) - Trident®, a leading designer and manufacturer of ink jet printheads, announces the launch of the SolidJet(TM) printing system. The system is specially designed to deliver high-quality ink jet printing on primary packaging for food, beverage, pharmaceutical, cosmetic and personal care applications. Available throughout North America, Europe and Asia, the SolidJet system consists of a Trident-powered SolidJet(TM) printhead and SolidMark(TM) ink.

"The SolidJet system helps brand owners ensure that their product will not be compromised by ink that rubs off packaging," said Steve Liker, Trident's Director of Marketing. "SolidMark ink is specially formulated to provide durable adhesive print on a large variety of different packaging materials."

SolidMark ink incorporates a crayon-like wax-based, solid ink. This ink is melted into a liquid state in the heated ink jet reservoir and then jetted onto packaging by the SolidJet printhead. The ink resolidifies in less than one second on the packaging as durable, solid print safe for use on food, pharmaceutical and cosmetic packaging applications. The SolidJet printhead and SolidMark ink were specially designed to work seamlessly together to produce crisp, dark images.

The SolidJet printhead is capable of printing barcodes and up to four lines of alphanumeric text for applications such as the printing of date and lot codes directly onto primary packaging.

The new Trident-powered printing system combines high quality printing capability with sturdy industrial design. The SolidJet printhead features stainless steel construction that performs well in rigorous industrial environments. A patented compliance chamber provides significant shock resistance to ensure consistently high print quality and product reliability.

The SolidJet printhead also features a long throw distance. This characteristic reduces the potential for damage caused by packages inadvertently brushing against the printhead and minimizes the need for operator intervention.

"The SolidJet printing system provides customers with a comprehensive printing system capable of providing high quality print performance in even the most rugged of industrial environments and safe for food, pharmaceutical and personal care packaging," said Liker.

About Trident
Trident invented high-resolution carton marking and coding 15 years ago. Today, Trident is a leading provider of piezoelectric impulse inkjet printheads and inks to Original Equipment Manufacturers (OEMs). Trident products are used in a variety of applications that require high-quality, high-speed, rugged printing equipment coupled with the ability to change the text, graphics or bar code information easily and frequently.

For more information visit www.trident-itw.com

In the United States, please contact Dave Wheeler, Marketing Manager by telephone at (203) 740-9333 ext. 3076 or by email at dwheeler@trident-itw.com.

In Europe, please contact Des O'Neill by telephone at +353 1 8014004 Ext. 370 or by email at europe@trident-itw.com.

In Asia, please contact Kay Chino by telephone at + 81 0471.81.0062 or by email at asia@trident-itw.com

More from Electronic Components & Devices