Printers permanently label slides and tissue cassettes.
Press Release Summary: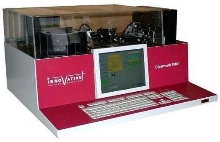 Clearmark printers use ink jet technology and integrated software to mark tissue cassettes and microscope slides with legible data that can contain alphanumeric characters, logos, and 1D or 2D barcodes. Equipped with 6-compartment hopper, DP 7000S can hold up to 450 slides, while DP 7000C can hold up to 150 cassettes and be extended to hold 300 or 450 cassettes. Dual instrument, DP 7000, combines slide and cassette printer into one unit for simultaneous printing.
---
Original Press Release:

Innovative Science Ltd. Introduces Their 'Clearmark' Range of Microscope Slide and Tissue Cassette Printers


Sligo, May 2005

Innovative Science Ltd. introduces their Clearmark range of tissue cassette and microscope slide printers for printing legible and permanent data onto most standard microscope slides and tissue cassettes used in histology, cytology, research or vetenary laboratories.

Using specially developed ink and ink jet printing technology the Clearmark printers are designed to clearly label slides and cassettes with data that can not be removed or be made illegible by processes or chemicals used in processing, staining or coverslipping of slides or cassettes.

Integrated, sophisticated software allows the user to print alphanumerical characters, custom designed logos and one- or two dimensional barcodes . The software also provides an easy to use interface with "what you see is what you get" display and intuitive touch screen controls. There are a multitude of formatting options, in any font and any size, including auto increment numbers / letters, fixed and open fields, automated counting and dating and Roman numerals as standard, allowing every user to set up the right labelling format for every circumstance while checking on the display what the printed data will look like. Available Protocol Software enables the effortless printing of reoccurring batches at the touch of a button.

There are three different instruments in the range. The DP 7000S slide printer has a six compartment hopper, holding up to 450 slides. The DP 7000C cassette printer also has a six compartment hopper which holds up to 150 cassettes. The hopper can be extended to hold 300 or 450 cassettes, if necessary. The DP 7000 dual instrument combines both the slide and cassette printer into one unit, enabling the user to print both slides and cassettes simultaneously. This is currently the only dual instrument on the market. All three instruments feature a removable rack collection system, enabling the user to take printed articles to their workstation in the order they were printed, while the instrument continues printing.

All instruments have an integrated computer. They can be used as standalone systems or integrated into a Network or L.I.S. system.

All three units are very economical to run. Ink is the only necessary consumable and one bottle of ink will print up to 200.000 cassettes or 100.000 slides.

For more information, contact

Innovative Science Ltd
Sligo Airport Business Park
Strandhill, Sligo
Ireland
Phone: ++353 71 9168525
Fax: ++353 71 9168649
Email: info@innovativescience.ie
Website: www.innovativescience.ie

More from Material Handling & Storage