Printer Tapes are designed for low-light signage.
Press Release Summary: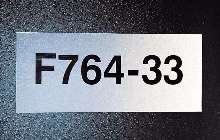 Used with GlobalMark(TM), PowerMark(TM), HandiMark®, and Labelizer® Plus products, reflective tapes are visible with flashlight or vehicle headlights and suited for low light conditions. Phosphorescent, Glow-In-The-Dark tapes glow for 10 hours and meet ISO, dIN and ASTM standards. Chemically-resistant tag stock meets OSHA 50 lb pull requirement and is suited for lockout and accident prevention tags. Magnetic tape facilitates bin, rack, and shelving identification.
---
Original Press Release:

Brady "Signs On" With New Tapes for Printer Product Lines


MILWAUKEE - (January 28, 2004) Accurate, readable signs and labels are critical for plant safety, productivity and compliance with codes and standards. Brady Corporation makes the job a little easier with the wide variety of materials available for the GlobalMark(TM), PowerMark(TM), HandiMark® and Labelizer® Plus label and sign making products. The introduction of new specialty sign and label materials expands the uses of these popular products.

Reflective materials are now available for all four printers. These materials are ideal for labeling utility poles and boxes, doors, and rooftop equipment for low light conditions. Labels are readily visible with only the light from a flashlight or from a vehicle's headlights.

Phosphorescent, "Glow-In-The-Dark" tapes, available for GlobalMark(TM), PowerMark(TM) and Labelizer® Plus, are ideal for a wide range of applications, including labeling exits, fire extinguishers, escape and evacuation routes, light switches, and electrical service boxes. Tapes glow for 10 hours and meet ISO, dIN and ASTM standards.

You can print directly to tag stock with your GlobalMark(TM) and Powermark(TM). The chemically resistant tag stock meets OSHA's 50lb pull requirement. This material can be used to create lockout tags, accident prevention tags, and inspection/material control tags for valves and equipment that comply with OSHA's standards. With MarkWare(TM) software, you can also use the tag stock to create Photo ID tags on your GlobalMark(TM).

Magnetic tape is now available for GlobalMark. Magnetic tape makes bin, rack and shelving identification fast and easy. With MarkWare software you can even print information from existing databases.

GlobalMark offers touch-screen technology for easy production of industrial-grade labels up to 4" wide. PowerMark lets you create industrial-grade signs and labels up to 10 inches wide. Both units print professional quality labels in single and multiple colors. Brady also offers the HandiMark, a portable, hand-held unit for producing labels up to 2" wide.

A complete selection of easy-to-install tapes is available for all four machines in a variety of colors and materials. Brady Corporation is an international manufacturer and marketer of complete identification solutions and specialty materials, with products including high-performance labels and signs, printing systems and software, label-application and data-collection systems, safety devices and precision die-cut materials for electronics, telecommunications, manufacturing, electrical, construction and a variety of other markets. Founded in 1914, Brady is headquartered in Milwaukee and employs more than 3,400 people in operations in the United States, Europe, Asia/Pacific, Latin America and Canada. Brady's fiscal 2003 sales were approximately $555 million. More corporate information is available on the Internet at www.bradycorp.com.

More from Software