Printer has 360 deg printing ability.
Press Release Summary: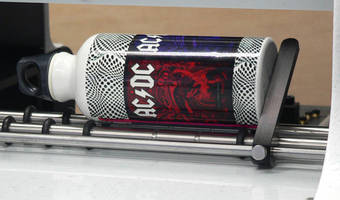 PromoJET - Rotary Inkjet digital printer features quick-change rotary fixture that can print on cylindrical SIGG SS water bottles, metal and plastic pens, flashlights, and other white/light-colored substrates. Assembled onto machine in 5-10 min, fixture prints on cylinders with 3/8-5 in. dia and 1.5-11.5 in. lengths. Flatbed/cylinder printer features 8-color inkjet head and 11 x 18 in. DC-driven tooling table. Color reproduction and ink volume is controlled via RIP software.
---
Original Press Release:
PromoJET-Rotary Inkjet - A Cylinder Printer from Inkcups Now Corp.
Enables Printing 360 Degree Images on SIGG Stainless Steel Water Bottles & Other Cylinders Inkcups Now Corporation is introducing the PromoJET - Rotary Inkjet, an add-on module to their original flatbed inkjet printer. Equipped with a quick-change rotary fixture this already versatile digital printer turns into a must-have cylinder printer, great for SIGG stainless steel water bottles, metal and plastic pens, flashlights and more. Going from flatbed to rotary inkjet printer is an easy procedure as the fixture can be assembled onto the machine and ready to print in 5 to 10 minutes. With the ability to print on cylinders with a diameter of 3/8" to 5" and length of 1.5" to 11.5" the rotary inkjet is capable of printing on a wide range of different sized round objects. Whether in standard flatbed configuration rotary configuration, the PromoJET is ideal for multicolor graphics printed on white or light colored substrates. Visit ICN website to watch the cylinder printer decorating a SIGG stainless steel water bottle. The PromoJET flatbed and cylinder printer features an 8 color ink jet head and a DC driven tooling table (11"x18") onto which parts can be tooled into a multiple-up configuration. Specialized RIP software controls the color reproduction and the overall amount of ink laid on the product. In addition to the PromoJET Rotary Inkjet bottle printer, ICN also offers a selection of other inkjets such as the Mimaki Printer - Flatbed UV Inkjet, a high-end flatbed inkjet capable of printing extremely high resolution images over dark or transparent objects. More information on the PromoJET Rotary Inkjet Printer:
http://inkcups.com/equipment/inkjet-printers/rotary-inkjet-bottle-printer/Default.aspx More information on our line of Inkjet Printers:
http://inkcups.com/equipment/inkjet-printers/Default.aspx About Inkcups Now Corp: Inkcups Now is a one-stop supplier for the decorators of 3-dimensional products. ICN offers a complete line of pad printing equipment & supplies, screen printing inks and equipment plus computer-to-plate laser etching machines & laser plate makers as well as flatbed inkjet printers. ICN supplies companies in the promotional product, electronics, medical, automotive, tagless garment and other industries. In addition to supplies and machines, ICN provides a range of services: training, plate making, laser engraving, color matching and mixing, ink adhesion testing. Through J3 Global Finance, a closely held subsidiary, Inkcups Now facilitates leasing of the full line of ICN equipment. Corporate offices are located in the US (MA, CA, GA, RI, AZ) and Canada (ON). Technical contact:
Mike Bissel
mikeb@inkcups.com
www.inkcups.com
info@inkcups.com
1-978-646-8980 Company Information:
Name: Inkcups Now
Address: 20 Locust St., Suite 104
City: Danvers
State: MA
ZIP: 01923
Country: USA
Phone: 978-646-8980
FAX: 978-646-8981
http://www.inkcups.com
More from Printing & Duplicating Equipment