Printer/Applicator handles multiple labels simultaneously.
Press Release Summary: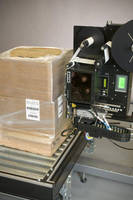 Capable of applying labels to front, side, and back panels of pallets, 3-Panel Printer Applicator is suited for production lines requiring application of multiple labels to boxes or pallets at same point in production line. Unit allows operators to select label application to one, two, or three panels of pallets or cases.
---
Original Press Release:

New 3-Panel Printer Applicator for Pallets



ID Technology has designed a 3-Panel Printer Applicator specifically for production lines requiring the application of multiple labels to boxes or pallets at the same point in the production line. This unique printer applicator allows one machine to do the work of three.

As a pallet approaches the printer applicator a tamp assembly, with a label on the tamp pad, is extended. Once the tamp assembly is fully extended, the tamp pad rotates towards the approaching pallet and applies the label to the front panel. The tamp assembly then retracts to home position. As the pallet passes by the printer applicator, the tamp module extends just far enough to apply a label to the side panel. Once the pallet has passed the tamp module, the entire assembly extends again. This time the tamp pad rotates towards the back panel and applies a label.

For added flexibility, operators can select label application to one, two or three panels of pallets or cases.

ID Technology, a division of Pro Mach, is a manufacturer and integrator of labeling, coding and marking systems, as well as, peripheral equipment, supplies and service. For more information or to locate the one of the ID Technology nationwide sales and service centers, call 888.438.3242 or visit our website at www.idtechnology.com.

Contact: Becky Roccaforte
Marketing Services Coordinator
Phone: (817) 624-6859
Fax: (817) 626-0553
E-mail: marketing@idtechnology.com
www.idtechnology.com

More from Labels Tags Signage & Equipment