Printer and Stand have durable construction.
Press Release Summary: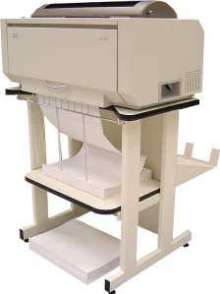 Open printer stand handles footprint, weight, and vibration of Model 4247-V03 printer, supports dual continuous forms front tractor paper paths, and has 3 stacking heights for paper output tray. It contains separator guide for separation of each continuous form. Model 4247-003 Industrial Impact Matrix Printer offers print speeds of up to 1,100 cps in fast draft mode and includes configuration flexibility to enable all interface cards to be user installable and switchable.
---
Original Press Release:

IBM 4247-V03 Impact Matrix Printer Stand and IBM 4247-003 Printer Enhancements


At a glance

The new IBM 4247 Model V03 Printer Stand:

Supports dual continuous forms front tractor paper paths with easy loading and unloading of forms

Has three stacking heights for the paper output tray

Has exceptionally strong construction designed specifically for the IBM 4247-V03's footprint, weight, and printing action (vibration)

Contains a separator guide to ensure the separation of each continuous form

Enhancements to the IBM 4247-003 Printer include:

Improved configuration flexibility

5% print throughput improvement

For ordering, contact:

Your IBM representative, an IBM Business Partner, or the Americas Call Centers at 800-IBM-CALL (Reference: YE001).

Overview

Printer stand for 4247-V03 now available

The IBM 4247 Model V03 is a professional industrial impact matrix printer capable of printing at speeds of up to 1100 characters-per-second (cps) in fast draft mode.

An open printer stand designed specifically for the Model V03 is now available. Key features of this stand include:

A paper separator to ensure paper separation when loading, unloading, or feeding forms from either of the two front continuous forms tractors

Sturdy construction designed specifically to support the 4247-V03 high-speed print action

Adjustable stacking height for paper output tray

Improved configurability and print throughput for the IBM 4247-003 Impact Matrix Printer

Enhancements for the 4247-003 printer include:

Configuration flexibility to enable all interface cards to be user-installable (Customer Setup) and switchable

Print throughput improvement

Planned availability date

August 29, 2003

Description

IBM 4247-V03 Printer Stand

The IBM 4247-V03 Printer Stand has three main sections:

A flat table surface to hold the printer

An input paper tray to hold forms before they are fed through the printer

An output paper tray for stacking forms after they are printed

The table is designed specifically to support the features of the IBM 4247-V03, and since this stand accommodates the footprint and weight of the 4247-V03, printer vibration is minimized.

The printer stand was also designed to serve the characteristics of the 4247-V03 printer. The stand accommodates two continuous forms and a separator in the front of the stand is used to ensure that the forms are kept separate.

When dual continuous forms are used, one form rests on the input paper tray and the other form rests on the floor underneath the input tray.

The printer stand is customer set-up and can be easily assembled in about 30 minutes.

The original higher-priced enclosed cabinet style printer stand (#4462) is still available.

Improved configurability for the IBM 4247-V03 Printer

A field-installable option to install Coax SCS (#4232) is now available. Previously, Coax SCS was available as an initial order feature only. This new feature is easily installed by a customers, and can be used to field replace the following adapters:

Twinax IPDS(TM) (#4220 or #4222)

Twinax SCS (#4210 or #4212)

Ethernet LAN (#4260 or #4262)

Serial (#4250 or #4252)

Coax IPDS (#4240 or #4242)

In addition, the Coax IPDS adapter can now be field installed to replace the following adapters:

Twinax IPDS (#4220 or #4222)

Twinax SCS (#4210 or #4212)

Ethernet LAN (#4260 or #4262)

Serial (#4250 or #4252)

Coax SCS (#4240 or #4242)

Replacement, addition, and installation of attachment cards for installed 4247-003 printers


More from Transportation Industry Products