Circuit Board Assembly Services
Printed Circuit Boards resist moisture and corrosion.
Press Release Summary: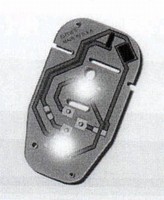 Elpor Steel Metal Core PCBs feature porcelain ceramic coating that provides primary electrical insulation between printed circuit and steel core. Dip process allows coating of both sides, edges, and holes. Thick film cermet conductors, resistors, and dielectrics are screen-printed onto board. Film and resistors are dried and fired, forming hard, adherent film, typically 0.5-1 mil thick, with desired electrical and mechanical properties.
---
Original Press Release:

ELPOR® Steel's Corrosion and Moisture Resistant Qualities Offer Unique Advantages



Heatron's Elpor Steel Metal Core Printed Circuit Boards (MCPCBs) offer the unique advantage of a robust porcelain ceramic coating. This coating provides the primary electrical insulation between the printed circuit and the steel core. It is applied in a proprietary dip process that allows coating of both sides, edges and holes. This high temperature glass-like coating also helps the circuit board resist moisture and corrosion.

ELPOR® Steel can be fabricated to accommodate custom board designs with far greater resistance to mechanical shock than standard Printed Circuit Boards. Excellent heat dissipation and zero water absorption make ELPOR® Steel technology ideal for use with virtually any printed power resistor or mounted device.

Thick film cermet conductors, resistors and dielectrics are screen-printed on to the ELPOR® Steel board. After printing, the film and resistors are dried and fired, forming a hard, adherent film, typically 0.5 to 1 mil thick with the desired electrical and mechanical properties.

Known for their ruggedness and heat sinking capabilities; Heatron's ELPOR® Steel circuit boards are utilized for a variety of applications in the automotive, appliance, military defense, computer, medical, industrial controls and communications markets.

About Heatron, Inc.
Entering into its 29th year, Heatron, Inc. is a global leader in design, integration and production services for thermal management and heat generation systems used in original equipment manufactured in a wide variety of industries. Heatron continually strives to improve its standard as a world class manufacturer. Heatron prides itself on being an employee-owned company through an employee stock ownership plan.
Heatron has an extensive understanding of the Lighting, Medical and Semiconductor markets. Their commitment to product and technical innovation, flexible design capabilities, along with advanced and patented technologies, allows Heatron to provide a wide spectrum of customers with the ability to produce products that are highly reliable, extremely durable, and aesthetically elegant.

For More Information Contact:
Jason L. Martin
Heatron, Inc.
3000 Wilson Avenue
Leavenworth, KS U.S.A. 66048
Phone (913) 651-4420
Fax (913) 651-5352
jasonm@heatron.com
www.heatron.com

More from Controls & Controllers