Print, Measure, and Cut System works with sleeving and tubing.
Press Release Summary: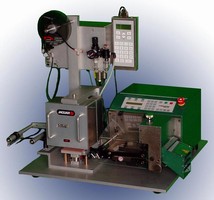 Model MCM-2005T marks, measures, and cuts heat shrink sleeving and thin wall flexible tubing. Thermal transfer printer offers 300 dpi resolution with choice of fonts and prints multiple lines of fixed/variable text and graphics as well as array of 2D or RSS barcodes. MCM-2005T has 5 programmable feed speeds and handles sleeve and tube sizes from 1/8-2 in. dia with max 4 in. flat width. Fonts, images, barcodes, and cut settings can be stored in system's memory.
---
Original Press Release:

Norwood / Kingsley Presents MCM-2005T Programmable Thermal Printing, Measure and Cut System



Applications: tubing and sleeving for the pharmaceutical, electronics, aviation, aerospace and defense industries

March 28, 2006 - Norwood Marking Systems / Kingsley Machine Company introduces the enhanced MCM-2005T, a programmable thermal printing, measure and cut system. The MCM-2005T integrates Norwood's Jaguar II Model 52i thermal transfer printer with Carpenter's Model 42B Compu-Cut® Automatic Measure and Cut system to mark, measure and cut heat shrink sleeving and generic thin wall flexible tubing. Redesigned for ease of operation, the new MCM-2005T improves ergonomics while maintaining superior print quality and cut accuracy.

The enhanced MCM-2005T features a more accessible user interface and a streamlined layout that enable the integrated system to be easily operated from one side. Norwood / Kingsley can equip the MCM-2005T with its optional 55sst Thermal Transfer printer to further ease use with a full color touch screen control and built-in diagnostics.

The programmable MCM-2005T can print multiple lines of fixed and/or variable information directly on sleeving and/or tubing. With a high resolution of 300 dpi (12 dots per mm) and a choice of font styles and sizes, the system can print text and graphics, including logos, and a wide array of two-dimensional or RSS barcodes. Fonts, images and barcodes as well as cut settings can be stored in the system's memory for easy recall to speed set-up and changeover. The ribbon cassette, which holds up to 600 meters (1970 feet), allows for quick change of ribbons/colors.

The versatile MCM-2005T handles the widest assortment of sleeving and tubing to maximize production versatility and reduce the cost of materials. Unlike the other integrated thermal printing and cutting system on the market, which requires the use of tubing and sleeving from only that one manufacturer, Norwood / Kingsley designed the MCM-2005T to mark, measure and cut tubing and sleeving from most manufacturers. This versatility allows customers to purchase supplies from a wide variety of sources, which creates a competitive pricing environment that dramatically reduces the cost of materials. One Norwood / Kingsley customer recently commented that he reduced the cost of consumables by 60% with the new MCM-2005T.

The integrated mark, measure and cut system from Norwood / Kingsley accepts sleeve and tube sizes from 1/8 to 2 inches (3 to 50 mm) in diameter with a maximum 4-inch (100 mm) flat width. With five programmable feed speeds, the standard MCM-2005T achieves an average throughput of 90 two-inch (50 mm) pieces of sleeves or tubes per minute.

About Norwood Marking Systems / Allen Coding Systems / Kingsley Machine Company
Norwood Marking Systems, a division of Illinois Tool Works, has been at the forefront of innovation since developing the world's first hot stamp imprinters for the food industry over 45 years ago. Kingsley Machine Company has also led the way, having patented its first hot stamp imprinter in 1932. Joining the ITW family in 2006, Allen Coding Systems is a leading U.K. manufacturer of overprinting equipment. Today, Norwood, Kingsley and Allen continue as market leaders, designing and manufacturing a range of innovative thermal transfer printers, hot stamp imprinters as well as ink and embossing printers that code and mark for a wide variety of industrial markets worldwide.

Reader Inquiries:
William Delmolino, Director of Sales & Marketing
Norwood Marking Systems
2538 Wisconsin Avenue
Downers Grove, IL 60515 USA
Tel: 800 626 3464 or 630 968 0646
Fax: 630 968 7672
Email: marketing@itw-norwood.com
URL: www.itw-norwood.com

More from Laboratory and Research Supplies and Equipment