Print/Apply Labeler handles delicate or fragile substrates.
Press Release Summary: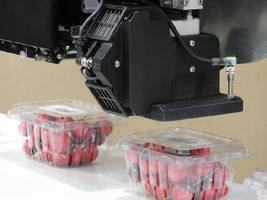 Using digital controls and no compressed air, E-Series Tamp Blow All-Electric Labeler provides accurate label placement. Tamp pad is extended 1/8¼ in. from product to be labeled, and then blows label onto it using same brushless fan motor that develops vacuum to hold label. Double action air flow valve changes vacuum draw into air blast coming out of same porting holes. Suitable for labels ranging from 1¼ x 1¼ in. up to 4 x 6 in., system offers application rate of 55 ppm.
---
Original Press Release:

NEW! Diagraph Introduces the E-Series Tamp Blow All-Electric Print/Apply Labeler



St. Louis, MO. . .Diagraph is pleased to introduce the E-Series Tamp Blow All-Electric Print/Apply Labeler. This "tamp blow" module adds to the innovative and highly successful E-Series labeler, which uses no compressed air and has digital controls for precise and accurate label placement and high repeatability.

What does the E-Tamp Blow module add to the already popular E-Series?

The E-Tamp Blow labeler is perfect for labeling delicate or fragile substrates, such as plastic clamshells for example, without making any contact from the tamp pad. The tamp pad is extended 1/8" to ¼" from the product to be labeled, and then "blows" the label onto it. The E-Series Tamp Blow can print/apply the labels for top or side application. In addition, the Tamp Blow can also provide label application to products with slight recesses or curvatures.

With the Diagraph E-Tamp Blow labeler, the process of applying a label in a touch-less manner is ingeniously simple, and without the use of compressed air! By using the same high velocity brushless fan motor that develops vacuum to hold the label, we can change the direction of air flow, and blow the label away from the tamp pad. The E-Tamp Blow module uses a double action air flow valve design to almost instantly change vacuum draw into an air blast coming out of the very same porting holes. Such an innovative design leads to imitation, so we have protected it with a pending patent.

Key Product Features of the E-Series Tamp Blow All-Electric Print/Apply Labeler:

o Label Size Range: 1¼" x 1¼" up to 4" x 6"

o Application Rate: 55 PPM (dependent on label size and application)

o Tamp Pad Sizes 4" x 2", 4" x 4", and 4" x 6"

o Blow Distance 1/8" to 1/4"

The E-Series All-Electric Print/Apply Labeler has these innovative features:

o All-Electric - No compressed air required.

o High-velocity turbo fan - secures the label during application to avoid label skew on your product.

o Saves energy - Uses less power than a hair dryer!

o Portability - moves easily from one production line to another without the hassle of air hoses getting in the way.

o Reliability - Typical MTBF of 25 million cycles means less maintenance and downtime.

o Ease of use - fewer controls than a comparable pneumatic system.

o Digital Controls - provides more accuracy, fewer adjustments, and less set-up time. Just "set it and forget it".

o "No-Change" tamp pad - change label sizes without changing tamp pad or selection valves.

o Pivoting tamp pad is standard; conforms to irregular surfaces

o Standard 10" & 20" stroke lengths with variable stroke range

o Flexibility - choose Sato, Zebra, or Datamax print engine.

o Upgradability - pneumatic Platinum Series systems can be field retrofitted to all-electric.

o Brushless DC Servo motor - the reliability of a brushless DC Servo motor drives the tamp cylinder.

o Harsh environment enclosures - available for dust and/or temperature control.

o Platinum E-Series is capable of various orientations to accommodate label application to the side, top, bottom or corner-wrap of substrate panels.

For more information, call 800-722-1125, send emails to info@diagraph.com or visit www.diagraph.com. To view videos of our labeling and coding product applications, customer success stories and demonstrations from the trade show booth, please visit YouTube's Diagraph Channel www.youtube.com/diagraphitw. Also, please take a moment to "Like Us" on Facebook www.facebook.com/diagraphitw in order to receive announcements and stay in touch with what's new at Diagraph.

Diagraph, An ITW Company is a leading manufacturer and distributor of marking, coding and labeling systems and supplies, and has been in the product identification industry for over 100 years. Diagraph's products include automated labeling systems, LINX continuous ink jet and laser coders, and large character ink jet and thermal jet systems. Acquired by Illinois Tool Works (ITW) in 2001, Diagraph has the resources and financial backing of a multi-billion dollar Fortune 500 organization. ITW has 825+ business units in over 50 countries employing nearly 60,000 men and women worldwide.

More from Electronic Components & Devices