Primer Cures Shadowed LOCA in less than 90 min.
Press Release Summary: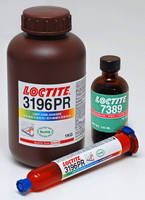 Formulated for direct bonding, Loctite® 7389™ Primer and Loctite® 3196PR™ Liquid Optically Clear Adhesive (LOCA) cures fully in <90 min in shadowed areas where light cannot penetrate during UV cure processes for 4–15 in. displays of devices ranging from cell phones to monitors. Non-invasive application of primer takes place off-line and does not require any laminating process modification/adjustment. Soft acrylic adhesive reduces potential for MURA while filling gaps from 200–300 microns.
---
Original Press Release:

Henkel's Loctite® Primer Cures Shadowed LOCA in Less than 90 Minutes



Workstation Precisely Applies Primer with No Changes to Laminating Process



Rocky Hill, Conn. -- For 4- to 15-inch displays from cell phones to monitors, a new Loctite® Primer and Liquid Optically Clear Adhesive (LOCA) combination from Henkel Corporation cures in less than 90 minutes in shadowed areas where light cannot penetrate during UV cure processes. Formulated for direct bonding, Loctite® 7389™ Primer and Loctite® 3196PR™ LOCA provide a solution for the cure through depth limitation of side curing, the work-in-process and potential damage to the LCD of heat curing, and the long cure time required for moisture cure. To fully leverage existing equipment, a simple, low-cost workstation positioned before lamination precisely and rapidly dispenses the primer and requires no modification or adjustment of the laminating process.



LOCAs that are not cured properly in shadowed areas can cause bubbles, delamination, MURA and/or adhesive migration into the backlight unit of the LCD. Application of the primer that ensures full cure in shadowed areas is a simple, non-invasive process that takes place off-line, directly before parts are fed into the laminating equipment.



The Loctite® 200™ D-Series Dispensing Robot applies solvent-based Loctite® 7389™ Primer to the cover glass and/or LCD using a foam transfer pad, and allows the solvent to evaporate in less than 10 seconds. The panel is then loaded into the laminating equipment, the adhesive is applied, and light cure occurs. At this point, the primer assumes responsibility for adhesive in shadowed areas, typically curing in less than 90 minutes and guaranteeing that there is no uncured adhesive that remains in the assembly.



The automated Loctite® 200™ D-Series robotic workstation includes an adhesive reservoir, dispense controller, and a volumetric dispense pump for accurately supplying primer to the foam transfer pad. This system is easily integrated with Loctite® robots or third-party automation systems. Studies have shown that the workstation ensures high process capability and provides application accuracy from 50 to 150 microns, values that approach those of CCD alignment.



Loctite® 3196PR™ LOCA is a low durometer, low modulus, low shrinkage acrylic adhesive that delivers high tensile and adhesion strength on polarizer films, PMMA, glass and ITO-coated glass. This ultra-soft LOCA reduces the potential for MURA while filling gaps from 200 to 300 microns. Typical cure time in shadowed areas is 50 minutes for gaps of 100 microns and 90 minutes for gaps of 250 microns.



For more information on Loctite® 7389™ Primer and Loctite® 3196PR™ LOCA, or to download a copy of the Loctite® LOCA brochure, go to www.henkelna.com/loca.



Henkel operates worldwide with leading brands and technologies in three business areas: Laundry & Home Care, Beauty Care and Adhesive Technologies. Founded in 1876, Henkel holds globally leading market positions both in the consumer and industrial businesses with well-known brands such as Persil, Schwarzkopf and Loctite. Henkel employs about 47,000 people and reported sales of $21.7 billion and adjusted operating profit of $2.8 billion in fiscal 2011. Henkel's preferred shares are listed in the German stock index DAX.



Contact

Paula Zakrzewski Shepard

Image Ink Public Relations

Tel: 860-228-8056

imageinkpr@aol.com



Henkel Corporation

Engineering Adhesives

One Henkel Way

Rocky Hill, CT 06067

Tel: 1-800-LOCTITE (562-8483)

Tel: 860-571-5100

www.henkelna.com/industrial

More from Materials