Preventing Danger Around the Corner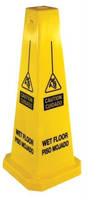 Impact Products makes the most attention grabbing, easiest to read, safety signs in the industry.  These signs are a highly visible yellow color.  Clearly imprinted on all four sides with large lettering are the words "Wet Floor" or "Caution Wet Floor" in both English and Spanish.



Available in two heights, 25 inches and 36 inches, these signs comply with ANSI Z535 standards, which require floor signs to include universally understood pictograms.  Designed to help prevent slip-and-fall accidents and promote building user safety.



For more information, contact us at 800-333-1541 or visit



www.impact-products.com



About Impact Products, LLC



Impact Products is a manufacturer and supplier of branded and private label non-chemical commercial cleaning, maintenance, safety, and related products.  The company's offering encompasses a full suite of janitorial products including floor care products, waste receptacles, washroom accessories, and safety products.  Markets served by the company include commercial cleaning, industrial services, healthcare, government, schools, office buildings, hospitality, and foodservice.  Co-founded in 1963 by James R. Findlay, its broad customer base is served out of Toledo, Ohio, Purvis, Mississippi, and Walnut, California.  Impact Products is a division of S.P. Richards Company, a wholly owned subsidiary of Genuine Parts Company (NYSE: GPC).  Visit us at www.impact-products.com.









More from Communication Systems & Equipment