Prevent Theft and Misuse of Costly Fire Extinguisher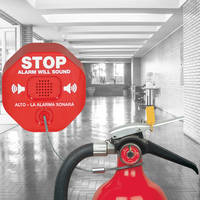 April 4, 2023 – With the cost of fire extinguishers on the rise, it is now more important than ever to protect these vital units.
STI's Theft Stopper® is the solution to help keep these vulnerable devices safe. The battery-operated alarm easily mounts next to the extinguisher and offers a unique steel cable-operated switch mechanism to help stop theft, vandalism and misuse.
If the protected fire extinguisher is moved from its normal position, the protective device emits a piercing local alarm (95 or 105 dB). Immediate attention is drawn to the area. Completely self-contained, the device does not interfere with firefighting in any way.
Add a warning in a second language with the provided labels (21 languages). Easy to install, the alarm comes complete with a 9-volt battery, anchors and screws. Also supplied is a short cable to deactivate the alarm for the service of the fire extinguisher. A 12-volt DC remote-powered model or wireless model is also available.
For more information on STI Theft Stopper (STI-6200) or the entire Stopper® Line, call 248-673-9898, email info@sti-usa.com or visit www.sti-usa.com. STI's address is 2306 Airport Road, Waterford, MI 48327-1209.