Prestone Launches New Prestone Command(TM) Family of Heavy-Duty Antifreeze/Coolants at HDAW'13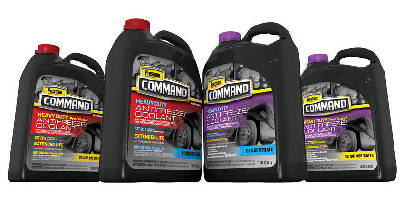 Lake Forest, IL,– Prestone Products Corporation, a leading manufacturer of antifreeze/coolant, cooling system flush/cleaners and other performance chemicals for the North American vehicle market, officially unveiled its new Prestone Command™ Heavy-Duty Antifreeze/Coolant products at the 2013 Heavy Duty Aftermarket Week (HDAW'13), which was held from Jan. 21-25 in Las Vegas, NV. Available in two different formulations, Extended Life (Red) and Extended Service (Purple), Prestone Command™ Heavy-Duty Antifreeze/Coolants have been specifically designed to help keep heavy-duty vehicles worry free and operating at the optimum level in any conditions.



"HDAW'13 was the perfect venue for us to introduce our new Prestone Command™ line to the heavy-duty vehicle market," said Tim Shipley, Director of Sales for Prestone Product Corporation. "We received an overwhelmingly positive response from everyone at the event."



During HDAW'13, Shipley participated in a short video introduction of the Prestone Command™ product line. To view the video, please go to www.YouTube.com/PrestoneCommand .



In conjunction with launching its antifreeze/coolant products, Prestone Products Corporation also announced the availability of its new line of Prestone Command™ Diesel Exhaust Fluid (DEF) at HDAW'13. Prestone Command™ DEF meets all API and ISO 2224-1 manufacturing specifications. It is available in 1- and 2.5-gallon (3.78- and 9.45-liter) containers, as well as 55-gallon (208.2 liter) drums and 330-gallon (1,249.19 liter) totes.



The new Prestone Command™ Heavy-Duty Antifreeze/Coolants and DEF product lines will be available for shipment in March. For more information on Prestone Command™ products, please visit www.PrestoneCommand.com . You can also contact Joe Izzo, National Accounts Sales Manager at Joseph.Izzo@Prestone.com .



Prestone Products Corporation manufactures and markets Prestone® antifreeze/coolant and related products. For more than 80 years, the Prestone name has provided customers with high quality products, including one of the leading brands of antifreeze/coolant. The company's heavy-duty division is headquartered in Lake Forest, IL, and recently launched its Prestone Command™ brand of products specifically engineered for the most demanding heavy-duty on-road and off-road applications. You can find more at www.prestonecommand.com.

Related