Presswood Automotive Pallet offers alternative to plastic.
Press Release Summary: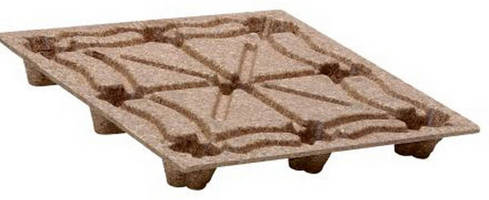 Exempt from IPPC-ISPM 15 regulations, Inca® 48 x 45 in. automotive pallets are made using process that combines wood fiber and resin with high heat and pressure. Finished pallets are nestable, and rigidity enhances unit load integrity while minimizing chance of package and product damage during transit. These pallets meet needs of Tier 1 and Tier 2 suppliers to automotive industry shipping components domestically and to assembly plants in Canada and Mexico.
---
Original Press Release:

Litco's New 48" x 45" Presswood Automotive Pallet is Cost-Effective Alternative to Plastic



VIENNA, Ohio -- Litco International, Inc., North America's leading source of Inca® presswood pallets, today announced the launch of nesting 48" x 45" automotive pallets. This new product offering is specifically designed to meet the needs of Tier 1 and Tier 2 suppliers to the automotive industry that can use a low-cost, non-plastic pallet which can nest in storage.



Traditionally, the 48" x 45" footprint has been used by the automotive industry for plastic (returnable) pallets and shipping totes. Space-saving nestability, long life span and exemption from IPPC-ISPM 15 regulations has made plastic the pallet material of choice for many Tier 1 and Tier 2 suppliers shipping components both domestically, and to assembly plants in Canada and Mexico.  Although automotive supply channels tend to be closed loop environments, therefore less apt to lose pallets, higher pallet acquisition costs and increasing loss rates have some logistics professionals searching for alternatives.



According to Vice President Gary Sharon, many of the design features that make presswood a viable alternative to plastic and wooden pallets are a function of the manufacturing process. Presswood pallets are made using a unique process that combines wood fiber and resin with high heat and pressure to create a precision molded 48" x 45" pallet. The finished pallets are nestable, offering a 4:1 space savings ratio over conventional pallets, and because Inca pallets are considered "processed wood," they are not regulated by IPPC-ISPM 15 and are welcome worldwide as-is.



The molding process also yields a stiffer, more rigid automotive pallet. "It has a density greater than air dried red oak," explains Sharon. "This enhances the integrity of a unit load because the stiffer the pallet, the better the unit load performs, resulting in less package and product damage during transit. And, they're generally more affordable."  Although this new size was specifically developed for automotive applications, Sharon explains the "48" x 45" (1219.20mm x 1143.00mm) is a popular size which should appeal to shipping professionals from a broad range of market sectors. The size ranks #7 of all pallets produced in the USA.



To learn more about all sizes of presswood pallets suitable for domestic and export applications, contact Litco International, Inc. at 330-539-5433 or www.litco.com.



Litco International, Inc., based in Vienna, Ohio, is North America's leading source of International Pallet Solutions to ease the pains of export and domestic shipping. Presswood Pallets complement corporative sustainability initiatives and are Cradle to Cradle Certified(CM) Silver by MBDC. Litco also offers a full range of pallet types, core plugs for roll ends and load securement products to move products safely through the most demanding supply chains. Litco was established in 1962 and ships from facilities located in Dover, Ohio; Warren, Ohio; Sardis, Miss.; and Wellford, S.C.



For more information, contact:

Gary Sharon, Vice President

Litco International, Inc.

330-539-5433 x 117

[email protected]