Pressure Washing and Deburring Machines handle simple and complex parts.
Press Release Summary: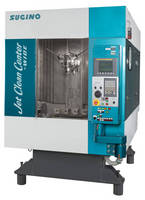 Comprised of 5 modular and fully programmable machines, JET CLEAN CENTER line is designed for precision washing and deburring of simple and complex parts. Products include CLEANRISER automated Millipore patch reading system as well as JCC drying equipment that uses plant or regenerative air or vacuum technology. Depending on machine, common base, stainless steel enclosure, and internal 3-axis module is used to streamline use of part handling automation.
---
Original Press Release:

Sugino Introduces Family of New Jet-Clean Center Flexible High Pressure Water Washing and Deburring Machines and Supporting Equipment.



Sugino Corp. (Itasca, IL) is proud to introduce their New and Improved JET CLEAN CENTER line of fully programmable machines designed for precision washing and deburring of both simple and complex parts. New supporting equipment includes the CLEANRISER automated Millipore patch reading system along with the JCC drying equipment using plant or regenerative air, or vacuum technology. Depending on the machine, a common base, stainless steel enclosure, and internal three axis module is used to streamline the design and to simplify the use of Sugino supplied part handling automation. Creating this family of five (5) modular machines responds to customer's requests for Sugino to offer solutions for a wider range of washing, deburring, and drying applications.

The JCC-WIDE is a high-pressure water washing / deburring machine equipped with a six (6) position turret that normally operates in pressure ranges from 5,000 (350 bar) to 7,000 psi (500 bar) and up to 9 gpm (34 L/min.) of flow rate. The "Wide" version refers to a 20% increase in XYZ axis travel distances compared to the previous Jet-Clean Center model. Some additional improvements include increased XYZ rapid rates, nozzle-to-nozzle turret index speed from 1 second to 0.5 seconds, upgraded control to a Fanuc Oi-MD, smaller footprint, increased spindle speed from 150 to 1,000 rpm, and an integrated 4th axis indexer capable of spinning parts up 200 rpm for low cost and environmentally friendly water removal from the part.

JCC-UJET machines utilize Sugino's CNC nozzle positioning technology and patented Horn Nozzle design to generate under water cavitation which creates a machine that will effectively and aggressively wash and remove machining chips from areas within a part that cannot be reached directly with a high pressure nozzle. Normal operating pressure and flow rate for this machine is 1000 psi (68 bar) at 14 GPM (12 L/min.) or higher depending on the application. Common parts being processed in this type of machine would be cylinder heads and engine blocks.

JCC-SLIM is a reduced footprint high pressure model that allows multiple machines to be placed side-by-side in production cells. This machine also excels in situations where COSTLY floor space is limited.

A JCC-SIMPLE machine is based on the same machine design as the JCC-Wide, but a single programmable nozzle position replaces the six position turret. This machine can be equipped with the capacity to operate at 7,000 psi (500 bar), however, a more common application would be intermediate washing at pressures around 1000 psi (69 bar) or less. This machine would also be used to process parts that are less complex, but still have areas that would benefit from precision washing.

JCC-DRY machines are stand alone drying systems that can be designed to utilize plant supplied or regenerative air or be equipped with vacuum drying technology. These machines can be configured with a single part station or with a 180 degree load/unload turntable so parts can be loaded and unloaded internal to the drying cycle time.

A CLEANRISER contributes to Sugino's turnkey capability by after washing in a JCC type machine the part cleanliness can be inspected by automatically reading the patch from a gravimetric test.

All high pressure Jet-Clean Centers utilize the three (3) axis CNC programming capabilities of Fanuc's Oi-MD control and servo motors and a SUGINO Tri-Plex Plunger type pump. Closed loop water filtration to 5-10 microns is standard with additional filtration available as an option depending on the material being processed and cleanliness requirements.

To receive more information or to schedule a visit to your facility please contact David Becker at:

Toll Free #: 1-888-SUGINO-1
Main #: 630-250-8585
Cell #: 630-306-2704

More from Agricultural & Farming Products