Pressure Washers feature wet sandblasting systems.
Press Release Summary: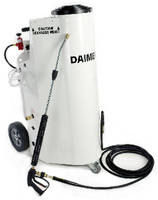 Able to remove rust, corrosion, and heavy deposits, Super Max® machines can be used with range of sand grit sizes as well as different media. Models 8900C-840WS and 8950C-840WS are gas-powered cold-water machines that produce pressures to 4,000 and 5,000 psi and flow rates to 4 and 5 gpm, respectively. Models 7000WS and 9000WS are electric-powered tri-mode (steam and hot/cold water) machines that, respectively, produce pressures to 1,000 and 1,1500 psi and flow rates to 2.5 and 2.8 gpm.
---
Original Press Release:

Daimer Industries Announces Four Wet-Sandblasting Pressure Washers



New Super Max® sandblasting products range from cold-water units to multi-mode machines offering steam and hot and cold water.

WOBURN, MA - May 8, 2009 - Daimer Industries, a leading manufacturer and distributor of commercial cleaning products, introduced four pressure washers featuring wet sandblasting systems. Two units are cold-water machines and the other two are tri-mode products that clean using a variety of temperatures.

"These new pressure washers offer sandblasting and a variety of pressures, water temperatures and flow rates," said Matthew Baratta, spokesperson for daimer.com. "The 8900C-840WS and 8950C-840WS are coldwater units, while the 7000WS and 9000WS are tri-mode pressure washers that offer cold-water, hot-water and steam. All four machines are ideal for removing rust, corrosion and the heaviest deposits."

The Technology

The wet sandblasting kit included with these units consists of a flexible 15-foot sand pickup tube, sand point and a special venturi head, which creates a uniform blast pattern and increases the sand velocity. The wet sand blaster systems can be used with a wide range of sand grit sizes as well as different media, including baking soda and small plastic pellets.

Because these wet sand blaster systems use high pressure water, the equipment is safer to use than units employing compressed air, which requires the operator to wear special breathing apparatus.

The cold water 8900C-840WS and 8950C-840WS pressure washers are gas-powered and offer an optional dual or multi-pressure selection capability for additional cost. Multi-gun operation is available as an option.

The electric-powered, tri-mode 7000WS and 9000WS provide steam, hot water, and cold water depending on the cleaning situation. Both units are heated with propane. The equipment features long-lasting steel heating coils for increased durability.

The Products

The Super Max® 8900C-840WS power washer produces up to 4000 psi of pressure and a flow rate of up to 4 GPM. The 8950C-840WS generates up to 5000 psi of pressure and a flow rate of 5 GPM.

The 7000WS power washer offers up to 1000 psi of pressure, a flow rate of up to 2.5 GPM, hot water temperatures of 180° F to 210° F and steam temperatures as high as 250° F. The Super Max® 9000WS offers up to 1500 psi of pressure, a flow rate of up to 2.8 GPM, the same hot water temperatures of 180° F to 210° F and steam temperatures as high as 330° F.

All four of these mobile power washers are on wheels and include: a 25-foot, high-pressure steam hose; a three-foot trigger wand; four assorted nozzles; and a powder-coated steel, high gloss, chip/chemical resistant case.

For More Information

Questions and requests for additional information can be directed to Matthew Baratta by calling (888) 507-2220.

About Daimer Industries

Daimer is a major manufacturer, importer and worldwide exporter of the industry's leading line of KleenJet® steam cleaners; XTreme Power® carpet cleaners, hard surface cleaning machines, floor buffers/scrubbers/burnishers; Super Max® and Vapor-Flo® power washers; and the line of Micro-Blasting® Eco-Green® ecologically friendly green chemicals that employ unique technologies and a patented, proprietary chemistry.

More from Explosives, Armaments, and Weaponry