Pressure Washer removes deposits from forklift trucks.
Press Release Summary: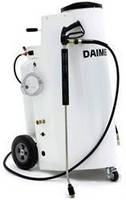 Used to remove grease, mud, and dirt deposits from forklift trucks, Super Max™ 7000 employs corrosion-resistant, heavy-duty, 1.5 hp NEMA motor and heavy-duty, stainless steel heating coil. Hose withstands elevated pressures, while chip-resistant housing also withstands corrosive chemicals. Able to generate temperatures of up to 330°F within 30 sec, commercial electric hot water pressure washer offers flow rate of 2.5 gpm and nozzles with various spray patterns: 0°, 15°, 25°, and 40°.
---
Original Press Release:

Daimer Introduces Pressure Washer for Forklift Truck Cleaning



Daimer®, the well-known U.S. brand of pressure washer machines, easily portable auto detailing systems, and more, is now offering the Super Max™ 7000, a powerful electric pressure washer for cleaning forklift trucks. This machine is equipped to deal with the challenges of cleaning forklift trucks. The heavy-duty 1.5 HP NEMA motor adds to the power of the pressure cleaner system, making it among the very best pressure washer for forklift truck cleaning.



The motor is not the only durable, corrosion resistant component of the Super Max™ 7000. The advanced commercial pressure washer's housing is chip resistant, and designed to withstand high temperatures as well as corrosive chemicals. The hose is durable and can withstand very high pressure levels too. Moreover, the heating coil is heavy-duty stainless steel, allowing for higher temperatures and greater longevity. These features have together created an effective, efficient hot water pressure washer system that can remove grease, mud, and dirt deposits from forklift trucks thoroughly.



"The level of grime and dirt on forklift trucks can create great frustration for whomever is responsible for cleaning them. High-powered machines can help clean forklift trucks easily," says Matthew Baratta, spokesman of Daimer Industries, Inc.®. "Daimer® is proud to offer an absolutely outstanding forklift truck cleaning system. The recently-launched Super Max™ 7000 pressure washer offers just the right temperatures, pressure level, corrosion resistance, and other features that translate into greater forklift truck washing capabilities while enhancing productivity."



Forklift truck cleaning presents some difficulties that can be overcome only with the use of a high quality pressure washer. The Super Max™ 7000 hot water pressure washer reaches temperatures of up to 330°F within just 30 seconds, as it comes equipped with a high-pressure heater exchange coil. Super-Hot™ steam easily removes grease and oil by dissolving them thermally and without the need for chemicals.



Congealed grease is very difficult to remove unless the cleaning person uses a system with high temperatures. The machine features Daimer®'s Adjustable Temperature Control™ (ATC™) technology that enables contractors to set the temperature to the required level. In addition, the Thermal Optimized Projection Steam™ (TOPS™) technology allows the commercial pressure washer to create more forceful steam flow.



The Super Max™ 7000 offers a moderate flow rate of 2.5 gpm, reducing the cost of water collection and disposal, and lessening the likelihood of drainage problems or illegal runoff, unlike pressure cleaners from other brands that offer very high flow rates. Users will clean faster, thus emitting less water anyway.



The Super Max™ 7000's nozzles include various spray patterns including 0°, 15°, 25° and 40°. These spray patterns enable the operator to clean different kinds of surfaces with the same machine. Given the availability of Daimer®'s Steam Nozzle Optimized™ (SNO™) technology, all of the machine's nozzles work in wet steam mode.



The Long Hose Technology™ (LHT™) is another feature that has made pressure cleaning easier for maintenance crews. This technology enables operators to add extra length to the hose and get the same cleaning power. On the other hand, the optional Automatic-Shutoff Technology™ (AST™) ends the effort of users to manually turn off and on the system when not in use. The system automatically powers off when left idle for over 30 seconds.



The Super Max™ 7000 is a technologically-modern electric pressure washer that can be used indoors as well as outdoors without much trouble. The reason behind convenient indoor use is that while a gas pressure washer emits fumes, the Super Max™ 7000 is powered by electricity and heated by propane, thus runs cleaner than most pressure washers. Together, these features allow an operator to contend with formidable cleaning challenges.



Other important technologies that are included in Daimer®'s high-tech industrial pressure washer systems are the company's Modular System Design™ (MDS™) and Self-Maintenance Engineering™ (SME™). Users can simply replace a part themselves without needing to send the machine back to the company.



For Additional Information:

Discover more about the Super Max™ 7000 by visiting Daimer®'s official website or by calling Matthew Baratta at (888) 507-2220. The systems are shipped to hundreds of countries all across the globe.



About Daimer Industries, Inc.®:

Daimer Industries, Inc.® is the leading supplier of over 700 models of cleaning systems and advanced technologies to 240+ countries. It supplies portable gas pressure washer systems, many models within its durable car wash equipment line, steam vacuum cleaners, hard floor cleaners, and many more.

More from Test & Measurement