Pressure Washer is suited for construction equipment cleaning.
Press Release Summary: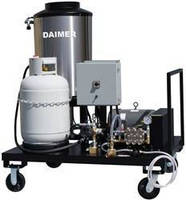 Used for outdoor cleaning applications where electricity is not readily available, propane-heated and -powered Super Max™ 12500 PE offers tri-mode temperature settings and removes rigid deposits of dirt, grease, and other substances stuck to construction machinery without damaging surfaces. Unit attains respective temperature and pressure levels up to 330°F and 3,000 psi at flow rates of 5 gpm and can convert cold water to hot water in ~30 sec using heavy-duty schedule 80 heater exchange coils.
---
Original Press Release:

Daimer Offers Pressure Washer for Construction Equipment Cleaning



Daimer Industries, Inc.®, the world's leading supplier of ruggedly-designed pressure washer machines, professional auto detailing systems, and more, is shipping the Super Max™ 12500 PE, a propane-heated and propane-powered commercial pressure washer with tri-mode temperature settings. The machine is ideal for outdoor cleaning applications in areas where electricity is not easily available, such as on construction sites.



The 12500 PE's temperature levels up to 330ºF and pressures of 3000 psi at flow rates of 5 gpm can help quickly eliminate rigid deposits of dirt, grease, and many other substances stuck to construction machinery, and without causing any damage to the equipment surfaces.



"Construction equipment owners invest a lot money in heavy-duty machinery, which if not properly maintained, may result in huge repair costs. To keep excavators, dozers, scrapers, dump trucks, and tractor trailers in good shape, superior-quality hot water pressure washer systems are required," states Matthew Baratta, spokesperson of Daimer Industries, Inc.®. "Daimer® is delighted to announce the launch of a high-powered machine that maintains the most difficult-to-clean surfaces with the power of pressurized Super-Hot™ steam. The Super Max™ 12500 PE pressure washer's housing is steel - powder-coated, high gloss, chip/chemical resistant and is ideal for all types of commercial cleaning requirements."



Daimer® is the most reputed brand of cleaning systems, such as completely electric pressure washer and rugged gas pressure washer systems, many types of quality car wash equipment, vapor steamers, and many more. Daimer® machines feature modern technologies that improve the cleaning power and increase the efficiency of the cleaning professionals. Highly respected companies all across the world rely on Daimer® machines, as they are durable, technologically-superior, and reliable. The company's machines are popular nationally and internationally, and are used within most industries for virtually unlimited cleaning applications.



For construction companies, keeping the construction equipment http://www.daimer.com/construction-equipment-cleaning/ presentable and in good working condition is important for reliability and longevity. Cleaning the machinery is a dirty job, but Daimer®'s Super Max™ 12500 PE pressure washer makes the task easy with its advanced features and technologies. The top-grade hot water pressure washer converts cold water to hot water in approximately 30 seconds, given the presence of heavy-duty schedule 80 heater exchange coils. In addition, the Thermal Optimized Projection Steam™ (TOPS™) technology of the machine allows for the creation of forceful, high temperature steam flow.



High temperatures are ideal for heavy-duty tasks, while the 12500 PE with 20.0 HP propane engine can also be used in the hot water or cold water mode for normal cleaning requirements. The multi-functional industrial pressure washer http://daimerindustries.blogspot.com/2008/09/industrial-pressure-washers.html features Daimer®'s Long Hose Technology™ (LHT™) that allows users to clean at long distances with minimal impact on the same pressure levels, and no loss of temperature or flow rate. Operators can utilize hoses even as long as 300 feet and still get the same cleaning power with this technology.



The maintenance of Daimer® machines is extremely easy as the machines come with Modular System Design™ (MDS™) and Self-Maintenance Engineering™ (SME™) technologies. Users can easily replace a part themselves anywhere in the world without any professional help, making these systems the best pressure washer machines in the industry.



Daimer® machines enhance the productivity of those in the cleaning business as well. The 12500 PE top-grade commercial pressure washer http://www.pressurewasherscleaners.com/commercial.php can be purchased with optional two-gun operation feature that allows two operators to use the machine simultaneously. The machine can be ordered on a skid for use as a trailer mounted system. Eco-friendly chemicals can be up-streamed into the machine for increasing the cleaning effectiveness if desired by the operator.



The Super Max™ 12500 PE http://www.daimer.com/pressure-washers/super-max-12500pe.htm includes accessories, such as 0º (blast), 15º, 25º, 40º, steam nozzles, a durable 3' trigger wand with quick disconnect, and a 50' high pressure steam hose. Optional pressure hoses of additional/customizable lengths are also available.



For Additional Information:

Discover more about the Super Max™ 12500 PE by visiting the company's official website or by contacting Matthew Baratta at (888) 507-2220. The machines are exported to most countries across the globe.



About Daimer Industries, Inc.®:

Daimer Industries, Inc.® is the supplier of top-ranked cleaning machines all across the globe. Electric pressure washer systems, gas pressure washer machines, steam vacuum cleaners, hard surface cleaners, automobile detailing systems, gum removal systems, tile and grout cleaners, and vapor steam cleaners are some of the machines offered by the company. Daimer® machines are used for a host of cleaning tasks, including grease removal, heavy machinery cleaning, hospital cleaning, restaurant maintenance, hotel carpet cleaning, or truck and car cleaning. The applications and markets are virtually limitless.

More from Cleaning Products & Equipment