Pressure Sensors / Detectors / Transducers
Pressure Transmitters offer 0.1% accuracy.
Press Release Summary: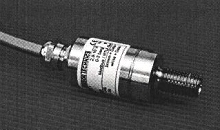 Based on silicon piezoresistive sensors, DTE1000 digital transmitters have welded stainless-steel construction for media compatibility. Pressure read-out and all control functions are accessible via RS485 interface. Programmable transmitters can measure pressure on request or continuously, and store values taken at preset intervals in internal memory for later retrieval. Pressure ranges are from 0 to 100 mbar to 0 to 70 bar, absolute or gauge.
---
Original Press Release:

New Programmable Digital Transmitters with 0.1% Accuracy from Sensortechnics


Sensortechnics offer high precision measurement with their new DTE1000 digital transmitters. DTE1000 pressure transmitters are based on silicon piezoresistive sensors. An all welded stainless steel construction provides excellent media compatibility. Pressure read-out as well as all control functions are accessible via an RS485 interface. The transmitters are capable of measuring the pressure on request or continuously and store values taken at preset intervals in its internal memory for later retrieval.
Important features of the new digital DTE1000 Series:

> 0.1 % overall accuracy
> Programmable data logging and continuous data conversion
> RS485 digital output with Modbus protocol
> Ultra-low power consumption
> All welded stainless steel construction
>Pressure ranges from 0 - 100 mbar to 0 - 70 bar absolute or gauge
> Precision temperature compensated and calibrated

DTE1000 digital transmitters provide high precision digital read-out and ultra low power consumption in small stainless steel housings. Applications for the new DTE1000 pressure transmitters include data loggers, gas-volume correction and remote monitoring systems.

Further information at:

Sensortechnics, Inc.
US-Office West
77844 Dublin Blvd., Suite E
Dublin, CA 94568
Phone: (925) 833-7841
Fax: (925) 833-7842
e-mail: inc@sensortechnics.com
Internet: http://sensortechnics. com

More from Sensors, Monitors & Transducers