Pressure Transmitter handles shock and vibration.
Press Release Summary: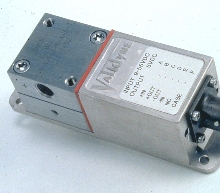 Model P55 differential pressure transmitter operates in temperatures from -65 to 250°F, has NEMA 4 housing that resists spray and moisture, and performs accurately under shock and vibration. It can measure ± 2.2 in. H20 to 3200 psi in 23 ranges, handles range of working fluids, and has wet-wet capability to accept liquids and gases on both sides of sensing diaphragm. Compact unit measures 1.5 x 1.5 x 4.5 in. and mounts on any flat surface.
---
Original Press Release:
High Performance At Low Pressure Ranges Combined With Durability Make The Validyne P55 Pressure Transmitter The Intelligent Measurement Solution

Validyne Engineering delivers accurate test results and durability with the P55 differential pressure transmitter. Designed to perform accurately under the stress of extreme shock and vibration, the P55 is an ideal measurement solution for on-board flight-testing, vehicle testing, hydraulic systems and product-process control testing, where severe test conditions can damage pressure sensors. In fact, the P55 delivers accuracy in test environments that have been known to damage or even destroy other differential pressure transmitters in its class. With over 5,000 units in the field today, the P55 has demonstrated reliability time and time again. "Our customers have responded very positively to the P55." Says Martin Abbott, vice president of sales and marketing at Validyne Engineering. "Not only is the P55 a true work-horse transmitter, but it is a must for mission-critical tests that have to be performed right the first time."

Equipped with Validyne's unique, variable reluctance sensing technology, the P55 is known for exceptional performance at very low-pressure ranges (+/- 2.2" H20). This technology also provides fast, dynamic response and superior signal stability through ambient temperature change from -65°F to +250°F. A NEMA 4 housing makes the unit resistant to spray and moisture. The P55 features a wide measurement capability of +/- 2.2" H20 to 3200 psi in 23 full-scale ranges, and handles a broad range of working fluids, with wet-wet capability to accept liquids and gases on both sides of the sensing diaphragm. The compact unit measures just 1.5" x 1.5" x 4.5" and is easy to mount to just about any flat surface.

The P55 is available in three output configurations. The 4-20 mA Output configuration, a two-wire system, operates over a supply voltage of 9 to 55 Vdc. The DC Output configuration provides a +/-5 Vdc signal. The Isolated DC Output configuration provides a +/- 5 Vdc signal, isolated from the power supply by 100 Mohms. An absolute pressure version with a welded variable reluctance sensor, zero span controls for external adjustment and connector or pigtail wiring options are also available. The Validyne P55 differential pressure transmitter can be ordered and customized to most specifications. Customizable features include type of measurement, electrical connector, 0-rings, calibrated output, pressure range, temperature range, sensor material and pressure port thread types.

When it has to be done right the first time, every time, the P55 Differential Pressure Transmitter is the intelligent choice.

Validyne Engineering Corporation has a strong, 30-year reputation for reliable, high- performance sensor products including transducers, transmitters and signal conditioning systems.

More from Fasteners & Hardware