Pressure Transmitter features base accuracy of 0.075%.
Press Release Summary: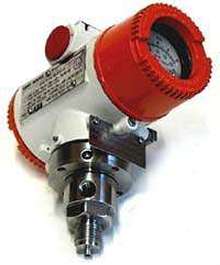 Model 2600T Safety Pressure Transmitter is compliant with Safety Integrity Levels SIL 2 and SIL 3. It includes self-diagnostics, signal validation of both sensor and electronics, and hardware/software redundancy. Two pressure signals from device are independently detected and analyzed internally. Microcontroller compares signals to validate output pressure signal, and transmitter's analog output is driven upscale or down to safe condition if difference is detected.
---
Original Press Release:

The 2600T Safety Pressure Transmitter


Warminster, Pennsylvania - June 26, 2003 - The 2600T Safety Pressure Transmitter available from ABB meets the need for pressure measurement devices in compliance with Safety Integrity Levels SIL 2 and SIL 3, common in process applications such as chemical, petrochemical, pharmaceutical facilities, offshore oil platforms, gas production operations and refineries. The device is certified to the IEC Standard 61508/ISA S 84.01. Customers designing to these standards comply with EPA and OSHA 1910 requirements. It also has TÃV certification for meeting international standards defining a process plant's SIL. The instrument features self-diagnostics for safety applications, signal validation of both sensor and the electronics, and hardware/software redundancy. The new transmitter also meets the stringent requirement of the new IEC PED (Pressure Equipment Directive) category IV compliance for mechanical integrity. The transmitter features a base accuracy of 0.075%, a Safe Failure Fraction over 96% and is available with a wide variety of materials and process connections, including ABB's exclusive all-welded remote seal design.

In a SIL 2 environment, a single, self-monitoring 2600T Safety Pressure Transmitter provides the same level of protection as two conventional transmitters in parallel while, in a SIL 3 environment, two 2600T Safety Pressure Transmitters could be used instead of three conventional units. Cost savings can be realized from the fact that a high level of redundancy can be achieved with fewer instruments, less cabling, I/O modules, etc. and through reduced time for installation and commissioning.

Dual redundancy with automatic data validation using a single 2600T Safety Pressure Transmitter involves two pressure signals from the device being independently detected and analyzed internally. A microcontroller compares the two signals to validate the output pressure signal and, should a difference between the two measurements be detected, the transmitter's analog output is driven upscale or down to a safe condition, as defined by the NAMUR NE43 standard. Internal diagnostics verify the correctness and validity of all processing variables.

ABB (www.abb.com) is a leader in power and automation technologies that enable utility and industry customers to improve performance while lowering environmental impact. The ABB Group of companies operates in around 100 countries and employs about 135,000 people. The company's U.S. operations employ about 11,000 in manufacturing and other facilities in 40 states.

For more information, please contact:
Robert Mapleston
ABB Media Relations
215-674-6580 phone
robert.mapleston@us.abb.com

More from Electronic Components & Devices