Pressure Sensors / Detectors / Transducers
Pressure Transducer provides analog and digital output.
Press Release Summary: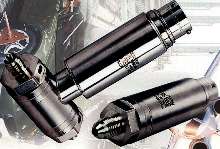 Model PDCR 3500, 1 in. dia, fluid isolated, analog output device achieves total accuracy of better than ±0.1% FS over -65 to +250°F. Internal digital electronics correct for repeatable errors without affecting analog bandwidth. Due to internal microprocessor electronics, unit can also give digital pressure output in engineering units via RS485, which is also used for re-calibration, serial number retrieval, and diagnostics.
---
Original Press Release:
The PDCR 3500 - A High Accuracy Analog and Digital Output Pressure Transudcer

New Fairfield, CT -- December 4, 2002-- GE Druck, a division of GE Industrial Systems, announced today the initial release of the PDCR 3500 high accuracy analog AND digital output pressure transducer.

The PDCR 3500 offers a unique capability of digitally enhanced, high accuracy output coupled with high analog bandwidth. The transducer is a 1-inch diameter fluid isolated analog output device similar to the PMP 4000 Series. It achieves a total accuracy performance of better than ± 0.1% FS over -65° to 250°F with the support from internal digital electronics, which correct for the repeatable errors without affecting the analog bandwidth.

Due to internal microprocessor electronics, the PDCR 3500 can also give a digital pressure output in engineering units via RS485. The RS485 is also used for re-calibration and housekeeping activities such as serial number retrieval and diagnostics.

The PDCR 3500 is therefore two transducers in one. Customers can use either the analog or digital output (or both) depending on the requirements of their application.

The PDCR 3500 has been developed for a flight test application on the new Airbus A380 passenger aircraft. In excess of 1000 transducers will be used in the aircraft flight test program.

About GE Druck

Recently acquired by the General Electric Company, GE Druck is a manufacturer of precision measuring and test equipment with subsidiaries throughout America, Europe and the Far East. The product range includes Pressure Sensors, Portable Calibrators, Calibration Standards and Air Data Test Systems. Established in 1972, Druck is a world leader in the application of advanced silicon sensor technologies for pressure measurement and control. Further information about GE Druck can be found at www.druck.com

About GE Industrial Systems

GE Industrial Systems spans the globe as an industry leader in integrated industrial and equipment, systems and services. The business brings to customers the latest technological products used to distribute, protect and control electrical power and equipment, and provides innovative product and service solutions for commercial, industrial, residential and utility applications. The business' Measurement & Sensing Technologies business is growing rapidly to address global customer needs for a broad range of key industrial measurement and sensing technologies. For more information visit the website at www.GEindustrial.com

For further information, contact:

Lisa Hickey

GE Druck Incorporated

Tel: (203) 746-0400, ext. 311

hickeyl@druck.com

For technical information, contact:

Paul Lupke

GE Druck Incorporated

Tel: (203) 746-0400, ext. 313

lupkep@druck.com
More from Thermal & Heating Equipment