Pressure Sensors / Detectors / Transducers
Pressure Transducer has all stainless steel wetted parts.
Press Release Summary: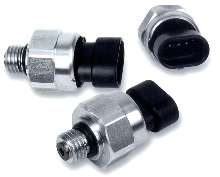 BE Bonded Element Isolated Pressure Transducer offers 1.5% total accuracy over -20 to +85°C. It provides amplified analog output voltage, which is directly proportional to pressure. Variety of pressure ranges and pressure ports are available. Plated CRS housing is offered for applications where stainless steel is not required. Pressure port material exposed to media is 17-4PH stainless steel.
---
Original Press Release:
SenSym ICT Announces the New Bonded Element Stainless Steel Isolated Pressure Transducer

Milpitas, California - Addressing an increasing demand for low cost, accurate, high reliability media isolated pressure transducers, SenSym ICT introduces the new BE - Bonded Element Transducer. This Sensor combines the 20+ years of SenSym ICT
Silicon Piezoresitive reliability with a new custom ASIC.

The new BE transducer offers 1.5% total accuracy over -20°C to 85°C. A variety of pressure ranges and pressure ports are available.

The all-new Bonded Element general-purpose industrial pressure transducers were developed for a variety of pressure applications and industries; providing excellent media compatibility with all stainless steel wetted parts. It is the ideal choice for applications where both media compatibility and high cycle life are essential.

The BE transducer features Bonded Element sensing technology, providing exceptional accuracy, stability, repeatability and temperature performance. This is ideal for OEM applications that need a low cost but highly accurate reading.

The transducers provide an amplified analog output voltage, which is directly proportional to the pressure. Several versions are available including two different housing materials (Stainless Steel and Plated CRS). The CRS housing offers a lower cost solution for applications where stainless steel is not required. The pressure port material exposed to the media is 17-4PH stainless steel.

For additional information, contact your local SenSym ICT Sales Office or:

For Marketing Literature Contact:

Mr. David M. Kertes, Business Development Manager

(408) 954 6704

Invensys plc, the international production technology and energy management group, specializes in helping companies to improve efficiency, performance and profitability. With close to 76,000 employees, Invensys is headquartered in London, England.

Our Production Management businesses work closely with customers in order to drive up performance of their production assets and maximize the return on investments in product technologies. The division includes Foxboro, Wonderware, Triconex, APV, Eurotherm and Baan and it addresses the oil, gas, and chemicals; food beverage and personal healthcare; and discrete and hybrid manufacturing sectors.

Our Energy Management businesses actively work with clients involved in both the supply and consumption of energy, developing systems using innovative technologies that improve the reliability and security of power supplies. The division includes Energy Solutions, Metering Systems, Home Controls, Appliance and Climate Controls and Power Systems and focuses on markets connected with power and energy infrastructure and commercial and residential buildings.

SenSym ICT - part of the Invensys Sensor Systems Group - is a leading manufacturer of high quality integrated circuit pressure transducers that provide low cost, high performance solutions to a wide variety of industries ranging from energy management
and avionics to medical diagnostics, agrionics and industrial controls. The company offers a verity of sensors including absolute, differential and gauge types for pressure ranges from 0 - 0.03 psi to 0 - 5,000 psi.

SenSym ICT's Pressure Transducer Handbook - an easy to read clearly organized, first of its kind guide to the world of sensors - offers well presented proven circuit designs, product information and detailed application descriptions. Complimentary copies are available from SenSym ICT distributors and sales offices upon request.

Information about SenSym ICT and our products is available online at: www.sensym-ict.com
More from Electrical Equipment & Systems