Pressure/Temperature Transmitter suits low-power systems.
Press Release Summary: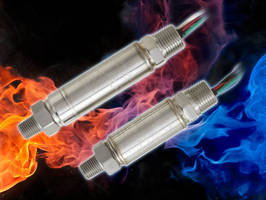 Multi-variable sensors combine multiple sensing systems, such as pressure, temperature, and LVDT linear position sensors, in one package to reduce component count and power consumption. Explosionproof AST46PT provides pressure and temperature outputs from one process point. Along with microprocessor-controlled design, features include one-piece body, respective pressure and temperature measurement accuracy of ±0.1% and 1.0% BFSL, as well as -40 to +250°F and 20,000 psi max ranges.
---
Original Press Release:

Multi-Variable Pressure/Temperature Transmitter Ideal for Low-Power Systems by Providing 2 Readings with Power Consumption of 1 Sensor



Mt. Olive, NJ – As the global market focuses on lean manufacturing, American Sensor Technologies offers multi-variable sensors that combine multiple sensing systems such as pressure, temperature, and even LVDT linear position sensors in one package to reduce the number of components in an installation, trim inventory stock and build times, and eliminate waste.  Taking on the same features and shape of a traditional single mode sensor, multi-variable sensors can reduce power consumption requirements as well.



For instance, the Model AST46PT Explosionproof Pressure/Temperature Transmitter provides both pressure and temperature outputs from a single process point.  In addition to simplifying control systems, the Model AST46PT offers a superior pressure reading along with a temperature sensor output for less than the cost of a stand-alone temperature sensor.  Ideal for low-power systems, these dual output transmitters generate both a pressure and temperature reading with the power consumption of one sensor.



The dual output configuration of the AST46PT transmitters also reduces process penetration points and leaks that are important considerations in critical systems such as hydrogen, oxygen, heavy oil processing, hydraulics, analyzers,offshore, pipelines and ammonia systems. In essence, the AST46PT offers a hazardous area solution for monitoring pressure and temperature with one device.



Incorporating a microprocessor-controlled design, along with AST's proven one-piece body construction, the Model AST46PT Explosionproof Pressure/Temperature Transmitter offers high accuracy pressure and temperature measurements of +/-0.1% and 1.0% BFSL, respectively.  Units are available in various temperature ranges from -40° to 250°F (-40° to 125°C) and pressure ranges up to up to 20,000 PSI (1,400 Bar).



The Model AST46PT is also CSA-approved for use in hazardous areas including Class 1 Div 1 Explosionproof Groups A, B, C and D, and for mining applications, Class 2 Div 1 Groups E, F and G.   The dual output pressure/temperature transmitter can be constructed in a wide range of wetted materials, including high-quality stainless steels and super alloys: 17-4PH SS, 316L SS, Inconel 718, Waspalloy, and Hastelloy C-276.



For more information on these pressure sensors, please refer to the web site at http://www.astsensors.com/explosion-proof-transmitters/AST46PT or contact the factory at sales@astsensors.com.



About American Sensor Technologies, Inc.

American Sensor Technologies, Inc. (AST) manufactures pressure sensors, transducers, transmitters and switches for pressure and level measurement with the best price to performance ratio in the industry. With pressure ranges from 5 inches of water column to 60,000 PSI and various material and output signal options, AST can design a standard or custom pressure sensor for liquids and gases that is cost-effective and reliable. Manufactured in New Jersey, AST pressure sensing products are built with a full selection of approvals including: ABS, Explosion-proof, Intrinsically Safe, and Non-Incendive ratings. For more information on AST pressure transducers and transmitters, please visit www.astsensors.com or email info@astsensors.com .

More from Electrical Equipment & Systems