Pressure Sensors / Detectors / Transducers
Pressure Sensor is built for hazardous environments.
Press Release Summary: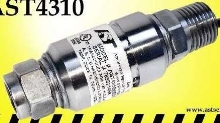 Offering zero and span adjustability up to ±5%, AST4310 stainless steel, media-isolated pressure sensor measures gases and liquids and is approved to UL 1604 Class 1 Div 2, Groups A, B, C, and D. Parylene C coated unit has one-piece sensing element design and measures gauge and sealed gauge pressure up to 10,000 psi. Along with 100 V/m EMI/RFI protection, product offers Krystal Bond(TM) Technology, which reduces long-term drift to 0.25% per year.
---
Original Press Release:

Pressure Sensor Built For Hazardous Areas Offers Zero and Span Adjustability


Landing, NJ, June 27, 2005... American Sensor Technologies, Inc. ('AST') offers the AST4310 Pressure Sensor for measurement of gases and liquids in extremely harsh environments. This stainless steel, media isolated pressure sensor is approved to UL 1604 (CSA 213) Class 1 Div 2, Groups A, B, C, and D for use in hazardous locations. The AST4310 also holds a CE Approval of EN 61326. This high accuracy adjustable pressure sensor is suitable for applications in oil patch regions, refineries, water treatment plants, pulp and paper processing, natural gas compressors and pharmaceutical applications.

Manufactured with customer convenience in mind, the AST4310 Pressure Sensor offers trouble-free access to zero and span potentiometers for quick tweaking in the field. Zero and span adjustments can be made up to ± 5% for fine-tuning of the measurement loop, which is important for precise set up or maintenance calibration. Each unit is Parylene "C" coated for use in high humidity and H2S Service. The AST4310 also offers 100V/m of EMI/RFI protection from electrical noise commonly found in the oil and gas, compressor, and automotive industries. Each unit is built with a ½" conduit for ease of installation where agency approvals are required.

AST also utilizes its own-patented Krystal Bond(TM) Technology to further enhance sensor performance by reducing long-term drift to just 0.25% per year. The use of Krystal Bond technology, coupled with a unique one-piece sensing element design, offers many advantages over other technologies including high-temperature operation, high cyclic life and high overload and burst pressure capabilities.

The AST4310 Pressure Sensor is offered in a range of wetted materials such as stainless steel 316L low carbon steel (hydrogen service), Inconel 718 (sea water and oil and gas field instrumentation) and titanium (medical products/chemicals) to provide safe operation and high productivity in a variety of media. For example, in hydrogen applications, AST 4310 Pressure Sensors employ wetted parts made from 316 L stainless steel to promote long life and resistance to media corrosion.

Measurements are available in gauge and sealed gauge pressure covering ranges up to 10,000 PSI (700 bar). Operating temperature range is -40 to 85°C (-40 to 185°F). Available in outputs of 10mV/V, 0.5-4.5 V ratiometric, 1-5V, 1-6V, .25-5V, or 4-20mA, units offer <+0.25% BFSL accuracy at 25º C (77°F)

Pricing for the AST4310 starts at $350, with 100 unit pricing as low as $238.50. For more information on the AST4310 Pressure Sensor, visit the AST web site at www.astsensors.com or contact Karmjit Siddhu at kssidhu@astsensors.com.

About AST

AST manufacture state-of-the-art, MEMS-based pressure sensors, transducers, and transmitters that offer the best price-performance ratio in the industry. Through the acquisition of noted LVDT manufacturer Macro Sensors (www.macrosensors.com), AST also offers a full line of linear/rotary position sensors and related instrumentation. Common applications of AST sensor products are in industrial OEM, hydraulic systems, fuel cells, medical gases, HVAC/R, refrigeration (ammonia, Freon, CO2), oil & gas exploration and production, and off-road vehicles. By combining exotic metals and AST's exclusive, proprietary Krystal Bond(TM) Technology (an advanced process in which inorganic materials are molecularly diffused onto a metallic surface in the presence of certain gases) in the manufacture of its pressure sensors, AST can produce high-performance pressure units that support the specialized needs of key niche markets. Many AST products are UL listed as intrinsically safe and certified for explosion-proof required environments. For more information on AST products and technology, go to AST's website at www.astsensors.com.

More from Electrical Equipment & Systems