Electrical Sensors / Detectors / Transducers
Pressure Sensor comes with digital instrumentation.
Press Release Summary: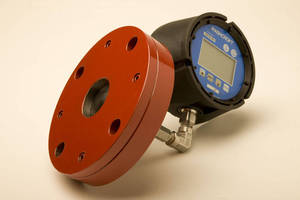 Available in 2-12 in. flange mounting, Series 45 pressure sensors are suited for tank level control and indication to prevent overflow of tanks. Remote digital read out can be installed in flange outlets on storage tanks. Digital instrumentation allows operator to remotely control pumps filling tanks fully without spillage, increasing total storage holding capacity of tank or series of tanks. Product can be battery, loop, or voltage powered.
---
Original Press Release:

Exclusively Designed for Storage Tanks Series 45 Pressure Sensor with Digital Instrumentation



CARNEGIE, PA (October 26, 2009) - Red Valve's new Series 45 Pressure Sensor with digital instrumentation is designed specifically for tank level control and indication. The remote digital read out lends itself to easy installation in flange outlets on storage tanks. Beside storage tanks, the pressure sensor is also ideal for handling raw sewage, paper stock, oil, water, chemicals, etc.

The Series 45 Pressure Sensor prevents the overflow of tanks. The digital instrumentation allows the operator to remotely control pumps filling tanks fully without spillage, increasing the total storage holding capacity of a tank or series of tanks.

Red Valve's Pressure Sensors with digital instrumentation are now available in 2" through 12" flange mounting. This makes the direct mounting of gauges, pressure switches and transmitters possible for either digital reading or remote control. The pressure sensor can be battery, loop or voltage powered. Digital accuracy brings a new level of control to pressure monitoring, pump control and digital input to your PLC, computer or system controller.

For more information on Red Valve's full line of pressure sensors, contact
Red Valve Co. Inc.,
600 N. Bell Ave.,
Carnegie, PA 15106,
call us at 412 279-0044,
or e-mail us at valves@redvalve.com.
Visit us at www.redvalve.com.

Contact:

Erin M. Athey

Marketing Manager

eathey@redvalve.com

More from Thermal & Heating Equipment