Pressure Sensitive Labeler offers variety of options.
Press Release Summary: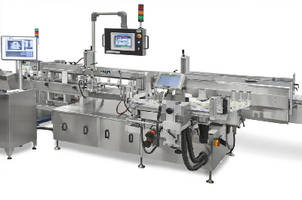 Depending on modules and options selected, AUTOCOLT IV can accurately label square, rectangular, and round bottles from 1–14 in. in height and 1–5 in. in diameter. Unit supports variety of label configurations including wraparound, multi-panel, front-and-back, and outserts at speeds up to 300 cpm. Options include Oscillating Pressure Station for multi-panel labeling, Vacuum Free Loop for continuous printing of variable data, soft reject system for vials, and linear feeder for outsert magazines.
---
Original Press Release:
NJM Packaging Introduces New Options for AUTOCOLT IV Labeler
NJM Packaging introduces new options for their popular AUTOCOLT IV pressure sensitive labeler. These options can be included on new labelers and most can be retrofitted on installed labelers in the field to expand production capabilities. AUTOCOLT IV is a high speed servo-driven in-line labeler that competes in the market with complex rotary labelers in speed and versatility to offer much faster and easier changeovers with fewer change parts, reduced maintenance, a smaller footprint and a lower capital cost.

NJM equips the AUTOCOLT IV with a wide variety of standardized modules and options to meet the needs of each application and customizes the labeler to each customer's requirements.

Depending on the modules and options selected, AUTOCOLT IV can accurately label square, rectangular and round bottles from 1 to 14 inches (25 to 355 mm) in height and from 1 to 5 inches (25 to 127 mm) in diameter. It can apply a variety of label configurations including wraparound, multi-panel, front-and-back and outserts at speeds of up to 300 cpm. It can be changed over to handle a new container size and new label size in less than 20 minutes with no tools required. It can be equipped for e-pedigree serialization, RFID tagging and other track and trace initiatives, making it ideal for pharmaceuticals, nutraceuticals, biotech and veterinary products as well as foods, beverages, cosmetics, personal care products and household chemicals.

The new options include an Oscillating Pressure Station for multi-panel labeling, a Vacuum Free Loop for continuous printing of variable data, a soft reject system for vials, color coded change parts and a linear feeder for outsert magazines. 

The new Oscillating Pressure Station (OPS) increases the speed of applying multi-panel labels to square or rectangular bottles by wiping down the leading and trailing edges of labels on three or four bottles simultaneously. The system combines servo-driven rotary motion, which is synchronized with container's linear speed, and a pneumatic wipe-down mechanism to handle multiple bottles per rotation as the bottles are held in place by an overhead belt. Compared to traditional stationary wipers, which are limited to speeds of 120 cpm, NJM's new OPS achieves speeds of up to 200 cpm.

For high speed applications that require the printing of variable data with a thermal transfer or laser printer, NJM's new Vacuum Free Loop improves print quality and reduces label web breakage. This servo-driven system pushes the feed roll to reduce web tension during high speed intermittent-motion labeling by driving the web to achieve continuous-motion printing at speeds over 200 cpm.

NJM's soft reject system is a new option for AUTOCOLT IV labelers that feature the optional trunnion system for labeling vials. The servo-driven trunnion rollers achieve positive container handling to maximize speeds and label placement accuracy, while the new servo-driven starwheel that follows the trunnion system adds positive container handling through a vision inspection station and onto either an 'accept' or 'reject' conveyor. Ideal for products that require the gentlest handling and applications that demand fail-safe tracking, the soft reject system handles up to 450 cpm.

All AUTOCOLT IV change parts offer quick assembly and removal with no tools required. Color coded change parts are available as an option. 

For customers looking to apply outserts, a new linear feeder for outsert magazines can be combined with the optional SIDESERT applicator. The new feeder increases runtime by allowing operators to safely feed multiple outsert magazines without stopping the machine. The feeder automatically ejects empty sleeves to maximize autonomy. It eliminates the need for a dedicated operator while achieving speeds of up to 280 cpm. 

Like the stand-alone TOPSERT that can be integrated with the AUTOCOLT IV labeler, the SIDESERT module features a rotating three-arm pick-and-place system and hot melt glue adhesion to secure even the thickest pieces of folded literature, such as double and triple outserts, with accuracy at very high speeds. If sideserts need to be applied to round containers, NJM can equip the AUTOCOLT IV with a servo-driven orienting wrap belt to ensure each sidesert is placed on the container between the leading and trailing edge of the primary label.

An option to identify and redirect bad labels prior to applying the label to the container minimizes rework. It features a servo-driven vacuum roll and a reject label confirmation sensor to confirm faulty labels are transferred to the separate blank web for easy reconciliation.

The AUTOCOLT IV is built from heavy-duty stainless steel and anodized aluminum with rugged, high-quality components to offer extreme durability and long equipment life. Its cabinet-style base features an electrical enclosure on a pull-out drawer to ease access for maintenance.

Servo motors and AC motors maximize performance accuracy and minimize maintenance. Allen-Bradley servo drives are managed by an Allen-Bradley PLC that easily connects with other components via the EtherNet/IP network. The labeler features a 10-inch Allen-Bradley color touchscreen that offers an intuitive user interface to ease operation and minimize training.

Clear Lexan guarding with safety interlocking doors is standard on the OPS module, trunnion system and the linear outsert magazine feeder, and it is optional on other systems.

About NJM Packaging, "Powered by Pro Mach"
For 100 years, NJM Packaging has been the proven packaging systems resource, unmatched for the innovation and quality of our equipment manufacturing, solid dose solutions, expertise in labeling, complete line integration, and truly exceptional support.  A one-stop source, NJM Packaging offers expert knowledge and experience from the earliest stages of planning through implementation and production, delivering competitive advantage and greater end-product value to our clients.  Our customers include: pharmaceutical, nutraceutical, food, beverage, chemicals, cosmetic and personal care product manufacturers; as well as contract manufacturers.

Reader Inquiries:
Marla Labreche-Stallmann
NJM Packaging
77 Bank Street
Lebanon, NH 03766  USA
Tel: 603 448 0300  
Fax: 603 448 4810
MarlaStallmann@njmpackaging.com
www.njmpackaging.com
More from Waste Management & Waste Handling Equipment