Pressure Sensitive Adhesive is odorless and waterproof.
Press Release Summary: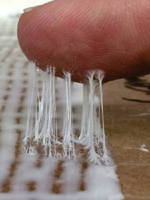 Intended for flooring industry, one-part Aquaflex² PSA is non-flammable, non-hazardous, and zero VOC. User trowels over prepared concrete, allows 30 minutes of flash for tack development, installs tile, presses to activate bond, and rolls floor. Flooring can be installed up to 2 hours after trowel. By eliminating need for shot-blasting, bio-based adhesive enables compliance with OSHA final ruling on occupational exposures to respirable silica dust associated with concrete mechanical prep.
---
Original Press Release:
Formulators|Aquaflex(TM) Introduces Aquaflex2 PSA(TM) - The Flooring Industries First Waterproof Pressure Sensitive Adhesive (PSA)
Aquaflex2 PSA is a new patent pending moisture-cure, waterproof pressure sensitive adhesive (PSA) that installs identical to industry standard water-based adhesives, avoids mechanical prep, has up to 2hrs of open time, with a warranted UNLIMITED moisture performance from both concrete and topical sources, (UNLIMITED insitu %RH per ASTM F2170, UNLIMITED pH per ASTM F710 and UNLIMITED MVER per ASTM F1869).

SANTA ANA, Calif.,  -- Formulators|Aquaflex is proud to introduce Aquaflex(2) PSA (Pressure Sensitive Adhesive) to its line of patented waterproof technologies marketed as the Aquaflex UNLIMITED Moisture Installation System™.  Aquaflex(2) PSA is non-flammable, one-part, non-hazardous, zero "0" VOC, odorless and waterproof.  The installation of Aquaflex(2) PSA is nearly identical to standard pressure sensitive adhesives.  Simply trowel over prepared concrete and allow 30mins of flash for tack development. Then install the tile, press to activate bond and roll the floor, that's it.  Flooring can be installed up to 2hrs after trowel.  After 4hrs, transitional reactions take place that result in a waterproof bond 300% stronger than any standard water-based acrylic adhesive.

"We've achieved what was previously considered impossible with this chemistry.  The ultimate, waterproof pressure sensitive adhesive - it's the flooring industries Holy Grail," said Benny Dickens, CEO/Founder of Formulators|Aquaflex.  "Aquaflex(2) PSA rings a death knell for epoxy moisture mitigation.  I've 'squared' the name because we've solved two problems with one solution, eliminating mechanical prep and providing for a pressure sensitive working characteristic with a walk-on-work installation method."

"Substitute Aquaflex(2) PSA for the manufactures adhesive and skip mitigation altogether.  No need for shot-blasting or concrete grind.  No need for 2-part mixing, Prop 65 listed, hazardous materials.  No more waiting for multiple products to cure.  No more project delays.  Install flooring anywhere moisture can create a problem, from any source, concrete or flood and do it for half the time and cost of epoxy.  Aquaflex(2) PSA cures in three hours to allow foot traffic and is cost effective. No moisture, no pH limitations; a simple and fast solution to high moisture projects.  Aquaflex(2) PSA is a godsend for that segment of the industry finding itself on the wrong side of expensive mitigation change orders and moisture failures," quoted Mr. Dickens.

"Aquaflex(2) PSA is the adhesive the industry said couldn't be made.  Yet, prior to Aquaflex and for nearly a 100 years, this is how adhesives performed.  This was before the late 90's when the industry turned to water-based and moisture sensitive adhesives.  Over that previous 100 years, the flooring manufacturers never asked for ASTM moisture testing, sub-slab moisture barriers were never required, destructive concrete shot-blasting was not the norm and expensive epoxy mitigation didn't even exist.  Adhesives used to work!  Installations didn't' have the threat of litigation and you didn't feel like you needed an engineering degree to lay tile," said Mr. Dickens.  "You can almost say, it's as if the industry created adhesive failures to sell more flooring.  Now with the invention of Aquaflex(2) PSA, we can finally end the madness.  In addition, Aquaflex(2) PSA also becomes the perfect solution for compliance with the new OSHA final ruling on occupational exposures to respirable silica dust associated with concrete mechanical prep." (https://www.osha.gov/silica/)

Formulators prefers to work through its nationwide network of commercial contractors, independent sales associates and trained technicians.  Aquaflex is now specified by several leading flooring manufacturers, major national retailers and healthcare networks.  Aquaflex is not just a proven advance in high moisture installation performance but also represents a clear evolution in clean, safe and environmentally responsible product development and manufacturing.

Aquaflex(2) PSA™

--  Easy... skip wrecking the floor with shot-blast.
--  Clean... avoid creating harmful concrete dust and meet OSHA compliance.
--  Fast... no mixing, simply spread, flash 30min, set and roll.
--  Safe... bio-based, zero VOC, zero odor, non-hazardous and passes IAQ 01350.
--  Pressure Sensitive Characteristics... up to 2hrs of "working time" to set tile.
--  Universal... works with any flooring tile material, rubber to VCT to LVT to solid vinyl.
--  Performance... warranted to an UNLIMITED moisture/pH level, top to bottom.

About Formulators|Aquaflex:
Formulators|Aquaflex, based in Southern California, was founded in 2000 as a research/development/manufacturer focusing on niche products to address failures in conventional solutions.  Formulators manufactures Aquaflex - a specialty construction brand of flooring installation and concrete repair products, centered around its patented waterproof adhesive technology.  Benny Dickens has a graduate degree in chemistry from CSULB and is a renowned formulation chemist with over 28yrs of materials science experience.  Mr. Dickens is the 100% owner, patent holder and sole researcher/formulator/developer of the entire Formulators|Aquaflex product line.  For more information on Formulators or the Aquaflex UNLIMITED Moisture Installation System™, please visit our website at www.formulators.com.

Benny Dickens
800.359.3201