Pressure Regulators range from 1/2 to 3 in. in size.
Press Release Summary: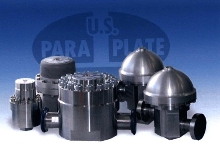 Gas charged 1358 Series Servo-Dome pressure regulators suit high pressure (6000 psi) applications. Valves in Servo-Dome line are available in sizes with Cv ratings from 0.6 up to 116.0. All are made from stainless steel; diaphragm, seat, and seal materials can be varied. End connections include pipe, MS tube, and standard and clamp ring type flanges. Valve domes can be loaded through use of manual valves or regulators or electronic pressure controllers.
---
Original Press Release:
Gas Charged Dome Pressure Regulator

With the addition of the 1358 Series Servo-Dome regulator, and the re-design of other models for 6000 psi service, U. S. Para Plate has announced that they now offer a complete line of servo-dome regulators for high pressure, high flow applications. Valves in the Para Plate Servo-Dome line are now available in sizes with Cv ratings from 0.6 up to 116.0. All are made from stainless steel. The diaphragm, seat and seal materials can be varied to assure compatibility with most gases and liquids. Dome style regulators are more compact and lighter in weight than direct acting spring control regulators for equivalent pressures and flows.

The valves are easy to install and come in most end connections including pipe, MS tube, standard and clamp ring type flanges. The valve domes can be loaded through the use of manual valves or regulators, or electronic pressure controllers. Sizes are from 1/2" up to 3".

Added options include internal dome loading, downstream sensing for remote pressure control, or direct mounted dome loaders. For more information please contact:

Peggy Stevens, Sales Manager

U. S. Para Plate Corporation

2810 Earhart Avenue

Auburn, California 95602

Phone(888) 510-9690

Fax (530) 885-8117

Email pstevens@usparaplate.com

Web www.usparaplate.com
More from Test & Measurement