Pressure Regulating Valves feature plastic construction.
Press Release Summary: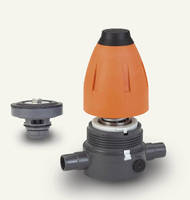 Made of chemical-resistant PVC and CPVC with no exposed metal parts, Pressure Reducing Type 582 Valve maintains constant outlet pressure, while Pressure Retaining Type 586 Valve ensures constant inlet pressure. Units feature central housing nut that eliminates re-torqueing and injection molded arrows to indicate flow direction. Available in sizes from 3/8–2 in. (DN 10–DN 50), valves have modular design with replaceable cartridges and can be ordered with or without pressure gauges.
---
Original Press Release:

Corrosion-Free PVC & CPVC Pressure Regulating Valves Offer Precise Control & Easy Maintenance



Valves maintain constant outlet or inlet system pressure control



IRVINE, Calif. – New PVC and CPVC Pressure Regulating Valves (PRVs) from GF Piping Systems feature compact size, modular design and highly chemical resistant plastic construction with no exposed metal parts. Offered in two models, the Pressure Reducing Type 582 Valve for maintaining constant outlet pressure, and the Pressure Retaining Type 586 Valve for constant inlet pressure, these valves are well suited for the many aggressive chemical processing applications.  



With easier and safer operation in mind, the new PRVs feature a central housing nut that eliminates re-torqueing and injection molded arrows to indicate flow direction.  Operational performance includes tightness resistant to temperature cycling with constant and low vibrating control behavior.



Other outstanding features include a modular system design that simplifies maintanance and reworks. With replaceable cartridges, users can simply swap out cartridges when needed while keeping a handy spare parts inventory. PRVs can be ordered with or without pressure gauges that can be installed on both sides of the valve in any position. 



"Aggressive media and harsh application conditions are a reality in many of the processes found in the chemical industry," says Jeff Sixsmith, Product Manager for Valves and Actuation for GF Piping Systems.  "Our chemical resistant plastic PRVs meet the strictest safety and durability requirements for these demanding applications."



Available in sizes from 3/8" to 2" (DN 10 – DN 50), standards include ISO 9393 for tightness and EN 12266 for leak rating.  In addition to PVC and CPVC materials, PRVs are offered in PROGEF Standard PP, SYGEF Standard PVDF, and SYGEF Plus PVDF-HP.



For product information and video go to www.gfps.com/prv or contact GF Piping Systems at toll Free (800) 854-4090; e-mail:

[email protected]

;  Web: www.gfpiping.com



About GF Piping Systems

GF Piping Systems supplies a full range of plastic pipe, fittings, valves, actuators, rotameters, fusion machines, secondary containment, heat exchangers, custom products, and sensors and instrumentation for industrial process control.  For further information, please contact:  GF Piping Systems, 9271 Jeronimo, Irvine, CA 92618-1904 USA; Toll Free (800) 854-4090, Fax (714) 731-6923; e-mail:

[email protected]

;  Web: www.gfps.com



All trademarks are the property of their respective companies