Pressure Regulating Valve Family from GF Piping Systems Named as a Winner in Processing Magazine 2015 Breakthrough Products of the Year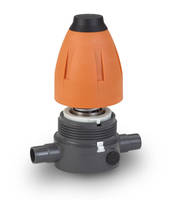 Annual awards recognize engineering-driven equipment and instrumentation suppliers to the process industries



Irvine, Calif. – GF Piping Systems is proud to announce that their new Pressure Regulating Valve Family has been named as one of 11 winners in Processing magazine's 2015 Breakthrough Products of the Year awards. Processing, part of Grand View Media's Process Flow Network, revealed the winners on Dec. 14, 2015 in their December print issue and online.



The Breakthrough Products of the Year awards recognize products, technologies and services that made significant contributions to the process industries within the last year and are expected to impact the industry for years to come.



"What the Processing editors noticed about this year's set of winners was the fulsome variety of technologies and disciplines represented, from valves to Internet integration, from pumps to process controllers. As in previous years, most of the winners have supplied equipment or instrumentation to processing industries for decades," said Kevin Parker, Processing's editor-in-chief. "These companies are engineering-focused and constantly called upon to supply solutions in novel configurations and settings, while keeping pace with computing and software developments," Parker added. "Their ingenuity and innovation delivers results for clients and deserves recognition."



The new Pressure Regulating Valve family design incorporates a special patent pending piston that eliminates the use of elastomers in the valve, eliminating particle shedding for improved operation. This is important in demanding applications that require only minimal amounts of particles in the flow stream. It also eliminates all exterior metal parts, re-torqueing, and provides easy maintenance. These one-of-a-kind valves can be used in a wide range of markets including water treatment, chemical processing, microelectronics, pharmaceutical, life sciences, and solar.



An online PRV sizing tool also makes it easy for customers to determine the proper valve size to ensure optimum valve performance and prevent valve damage.



"Having our new PRV Family recognized as a Breakthrough Product for the process industry really distinguishes it from other valves on the market, " says Jeff Sixsmith, Product Manager for Valves and Actuation for GF Piping Systems. "The valve's high purity performance along with its modular design that allows changing valve function from pressure reducing to pressure retaining, are both huge features that users really appreciate."



For more information on the PRV Family, contact GF Piping Systems at (800) 854-4090, www.gfps.com or E-mail: us.ps@georgfischer.com.



About GF Piping Systems

GF Piping Systems supplies a full range of plastic pipe, fittings, valves, actuators, rotameters, fusion machines, secondary containment, heat exchangers, custom products, and sensors and instrumentation for industrial process control. For further information, please contact: GF Piping Systems, 9271 Jeronimo, Irvine, CA 92618-1904 USA; Toll Free (800) 854-4090, Fax (714) 731-6923; e-mail: us.ps@georgfischer.com; Web: www.gfps.com.  

More from Electronic Components & Devices