Pressure Controller/Calibrator has versatile, modular design.
Press Release Summary: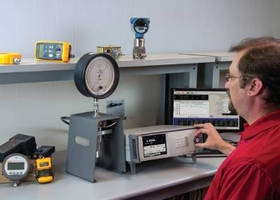 With modular design that provides flexibility to install modules with different accuracy classes within same chassis, 6270A can be configured for various pneumatic pressure calibration applications. Pressure ranges from low differential pressure to 3,000 psi with accuracy to 0.02% FS or 0.01% reading, and graphical interface features intuitive menu as well as multilingual options. Controller also works with Fluke Calibration COMPASS® for Pressure software and offers full remote interface.
---
Original Press Release:

New Fluke Calibration 6270A Calibrates a Wide Range of Pressure Gauges and Sensors with a Single, Easy-to-use Device



EVERETT, Wash. – Fluke Calibration introduces the 6270A Modular Pressure Controller/Calibrator, an easy-to-use calibrator with a modular design that can be quickly configured to meet a wide variety of pneumatic pressure calibration applications. It's ideal for pressure sensor manufacturers who want to avoid downtime on the production line, and calibration labs and instrument shops that need precision and accuracy over a wide range.



The 6270A features pressure ranges from low differential pressure to 20 MPa (3,000 psi), which covers the requirements of most gauges and sensors, with two levels of accuracy (0.02 percent full scale or 0.01 percent reading) to balance the needs for accuracy and budget. The 6270A's modular design provides the flexibility to install modules with different accuracy classes within the same chassis, so technicians can use the highest level of accuracy for the pressure ranges that require it, and a lower, more economical level of accuracy where appropriate.



It has an easy to learn and use graphical interface with a choice of nine languages that features an intuitive menu structure providing access to any feature in four button presses or less.



The pressure calibrator works with Fluke Calibration COMPASS® for Pressure software to automate and run complete pressure calibration sequences on single or multiple devices under test. COMPASS software removes the unknowns often associated with getting automated systems online. The 6270A also features a full remote interface that enables technicians to use it with custom software or other data acquisition equipment.



The 6270A is designed to be easy to maintain in-house to reduce cost of ownership. It includes a Service and Calibration manual with detailed instructions of how to replace valves and components. Control and measurement modules are separate allowing for quick and easy repair. Simply pull out the module and replace it.



To learn more about the Fluke Calibration 6270A Modular Pressure Controller/Calibrator Pressure Calibrator, visit www.flukecal.com/6270A.



Contact Fluke Calibration

For more information from Fluke Calibration, visit the Fluke Calibration website or contact Fluke Corporation, P.O. Box 9090, Everett, WA USA 98206-9090, or call 1-877-355-3225.



About Fluke Calibration

Fluke Calibration is a leader in precision calibration instrumentation and software for electrical, temperature, pressure, flow, and RF measurements. Calibration products from Fluke Calibration are found in calibration facilities around the world, including National Metrology Institutes, that demand the highest levels of performance and reliability, backed by state of the art metrology and uncompromising support. They are relied on by quality engineers, calibration technicians, and metrologists to instill confidence in the measurements that are critical to their organizations for quality, safety, reliability, and cost.



Fluke and Fluke Calibration are trademarks of Fluke Corporation. The names of actual companies and products mentioned herein may be the trademarks of their respective owners.



For more information:

Dan Wright

Communications Manager

(425) 446-5638

dan.wright@fluke.com



More from Computer Hardware & Peripherals