Pressure Control Valves feature high-purity design.
Press Release Summary: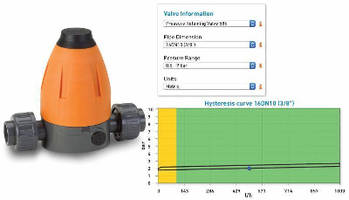 Available in sizes from 3/8–2 in., High Purity Pressure Control Valves incorporate patent-pending piston that eliminates use of elastomers and particle shedding. High-purity operation is further optimized via threaded bonnet, which has no exposed metal bolts. Modular system allows user to adjust set pressure range and go from reducing to retaining (or vice versa) by switching cartridge. With online sizing tool, customer can determine proper valve size and prevent valve damage.
---
Original Press Release:

New Easy-to-Use Calculation Tool Ensures Proper Size Selection for Pressure Regulating Valves



A new sizing tool developed specifically for GF Piping Systems' new Pressure Control Valve family makes it easy for customers to determine the proper valve size to ensure optimum valve performance and prevent valve damage.



IRVINE, Calif. - To ensure proper valve performance, GF Piping Systems has introduced a quick and easy-to-use tool that calculates the correct Pressure Regulating Valve (PRV) size to select from the company's new line of high purity performance PRVs.



"Selecting the proper PRV size is critical to optimal valve performance," explains Jeff Sixsmith, Product Manager for Valves and Actuation for GF Piping Systems. "Correct valve size also prevents potential valve damage. Since the ideal PRV size can be different from the piping system size segment it is installed in, size selection may not be obvious."



To use the tool, the customer simply enters the valve type desired (either pressure retaining or pressure reducing) along with the process parameters, and the program calculates the optimum valve size to select.



Customers can access the tool from the company's home page (www.gfps.com) by selecting 'Downloads & eTools' and then clicking on 'Valve Sizing Tool' from the pull-down menu. Users then select the desired valve type, pipe dimension, pressure range and unit type, and enter in the inlet pressure and flow rate. From there, the program calculates a hysteresis curve and displays the operating point on a graph. Depending on the operating point shown on the graph, the customer then obtains the proper valve size to order.



The new High Purity Pressure Control Valve family design incorporates a special patent pending piston that eliminates the use of elastomers in the valve, eliminating particle shedding for improved operation. This is important in demanding applications that require only minimal amounts of particles in the flow stream. It also eliminates all exterior metal parts, re-torqueing, and provides easy maintenance. These one-of-a-kind valves can be used in a wide range of markets including water treatment, chemical processing, microelectronics, pharmaceutical, life sciences, and solar.



"Our modular system makes changing the valve function from pressure reducing to pressure retaining extremely easy says, " Jeff Sixsmith, Product Manager for Valves and Actuation for GF Piping Systems. "And now, with our new valve sizing tool, selecting the proper valve has become easier."



In addition to its elastomer-free capability, high-purity operation is further enhanced via the valve's threaded bonnet, which has no exposed metal bolts. The central housing nut does away with re-torqueing for easier operation and compact design enables installation in limited space. The modular system allows the user to easily adjust the set pressure range and quickly go from reducing to retaining (or vice versa) by simply switching the cartridge.



The pressure regulating and pressure retaining valves are available in five materials - PVC, CPVC, PROGEF Standard PP, SYGEF Standard PVDF, and SYGEF Plus PVDF-HP - in sizes from 3/8" to 2" (DN 10 - DN 50). Standards include ISO 9393 for tightness and EN 12266 for leak rating. To view the new Valve Sizing Tool for Pressure Control Valves, click here, or contact GF Piping Systems at (800) 854-4090, us.ps@georgfischer.com.



About GF Piping Systems

GF Piping Systems supplies a full range of plastic pipe, fittings, valves, actuators, rotameters, fusion machines, secondary containment, heat exchangers, custom products, and sensors and instrumentation for industrial process control. For further information, please contact: GF Piping Systems, 9271 Jeronimo, Irvine, CA 92618-1904 USA; Toll Free (800) 854-4090, Fax (714) 731-6923; e-mail: us.ps@georgfischer.com; Web: www.gfps.com



All trademarks are the property of their respective companies

Related