Pressure Blowers with Open Style Wheel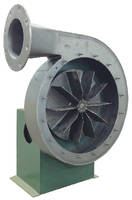 APPLICATIONS

Open style Pressure Blower wheels are ideal for efficiently handling smoke, gases, light non-abrasive dust or short strand material that might otherwise get caught up on a shrouded wheel.



DESIGN FEATURES




Pressures up to 58" WG.



Capacities to 5,200 CFM.



Stable performance…the pressure curve remains stable from wide-open to closed-off…fan instability, or pulsation, is eliminated even when "turn-down" approaches zero flow.



Steel wheel less front plate for more rugged applications.



Design offers superior efficiency over conventional open radial-wheel designs.



Variable wheel diameters and a choice of six outlet sizes enable efficient fan selection across a wide range of volumes and pressures.



Choice of arrangements…direct-drive and belt-drive.



Wide application range…designed for continuous operation in combustion, cooling, conveying, drying, and various process sytems.



CONSTRUCTION FEATURES

All-welded steel housings - heavy-gauge housings are designed specifically to prevent "flexing" at high pressures.

Concentric Lock Bearings - selected to provide long service life through the entire operating range of the fan.

Flanges – continuously welded flanges match ANSI Class 125/150 hole pattern.

Balance - all wheels are precision-balanced prior to assembly…fans with motors and drives mounted by nyb are

given a final trim balance check at the specified running speed.

Shafting – straightened to close tolerance to minimize "runout" and ensure smooth operation.

Inlet configuration – a choice of three inlet types allows units to be tailored to specific application requirements.

Lifting eyes – standard on all units for ease of handing and installation.

Finish – medium-green industrial coating.

Stainless Steel Construction– Types 304 and 316 stainless alloy construction are available for corrosive applications.

More from HVAC