Pressure Blast System suited for large parts.
Press Release Summary: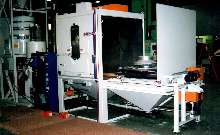 Measuring 89 x 120 x 60 in., Model RSSA-9 rotary table pressure-blast system automates impact treatment of large components. High-cube blast cabinet has track extension and motorized transfer cart with 48 in. dia, adjustable speed powered turntable and 500 lb capacity. Catch tray under track extension returns carry-out media to system. Pressure-blast version has 3 or 4 nozzles fed from 6.5 ft³ vessel, and cyclone reclaimer is adjustable.
---
Original Press Release:

Blast Large Parts Automatically


December 15, 2003 - Saratoga Springs, NY - Guyson Corporation has automated the impact treatment of large components with its Model RSSA-9 rotary table pressure-blast system. Key applications of the high-cube blast cabinet include descaling, shot peening, surface preparation, cosmetic finishing and blast cleaning of hefty castings, fabrications and machined components

With overall dimensions of 89" H x 120" W x 60" D (226cm x 305cm x 152cm), the cabinet is outfitted with a track extension and a transfer cart bearing an adjustable speed powered turntable 48 inches in diameter. A catch tray under the track extension returns carry-out media to the system. To ease the movement of heavy work loaded onto the table by overhead crane or hoist, the rolling transfer cart is motor driven. The standard 500 pound turntable weight capacity can be optionally upgraded.

The pressure-blast version of the RSSA-9 typically has 3 or 4 nozzles fed from a 6.5 cubic foot vessel. Linear motion of the blast nozzles synchronized with the rotation of the table is provided by a ballscrew-ballnut traverse mechanism mounted on the roof of the finishing enclosure. Nozzles can also be rigidly pre-set in fixed position on the machine's standard multi-adjustable gun brackets. An optional manual touch-up station includes armholes and an extra nozzle which can be hand held and actuated by a guarded foot-operated switch. In the manual mode of operation, automatic blasting functions of the machine are disabled, and the turntable can be jogged under power to improve accessibility of all aspects of the workpiece.

Compatible with a wide variety of different media, the blast system is completed by a cyclone reclaimer that is adjustable for fine-tuned separation of dust and contaminants, and it is provided with an efficient cartridge-type dust collector designed and built by the blast manufacturer. For extended periods of automated blasting the media delivery system can be equipped with level sensors and automatic media replenishment. A double-chambered pressure vessel can also be supplied to enable uninterrupted shot or grit flow despite media recharging during a long blast cycle.

When aggressive media are to be used, the RSSA-9 is normally supplied with comprehensive abrasion protection, including bonded rubber cabinet, table and cyclone linings, cast urethane ducting to the reclaimer, blast nozzles and grit metering valves lined with boron carbide and an inner anti-frost window mounted in a quick-change frame.

Prospective users of the Model RSSA-9 or semi-automated blast systems are encouraged to submit sample components for free testing in the New York manufacturer's application engineering laboratory located in their Saratoga Springs plant.

CONTACT FOR MORE DATA:
J. C. Carson
Guyson Corporation
Tel: 518-587-7894, ext. 226
jccarson@guyson.com

More from Material Processing