Pressure Blast Cabinet adjusts to fit any operator.
Press Release Summary: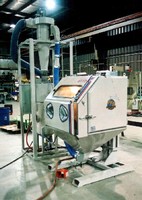 Equipped with direct pressure media delivery module, Model 8-AH is suited for situations in which more than one person may use same cabinet on regular basis. Steel base is fitted with electrically operated jackscrew that raises and lowers entire blast enclosure. Extra large armholes with shoulder-length gloves allow uninhibited movement during use. Media and dust extracted from cabinet are pneumatically conveyed through ducting to cyclone separator and media reclaimer.
---
Original Press Release:

Pressure-Blast Cabinet Fits Any Operator



June 29, 2006 - Saratoga Springs, NY - Guyson Corporation has extended the capabilities of its Model 8-AH adjustable height blast cabinet by matching it with a high-performance direct pressure media delivery module. The adaptable manual blast system was developed for situations in which more than one person may use the same cabinet on a regular basis.

The rigid welded steel base of the cabinet is fitted with an electrically operated jackscrew that raises and lowers the entire blast enclosure. Each individual user can adjust the height of the Model 8-AH to the most comfortable position by means of a switch located on the side of the cabinet. The manufacturer claims that height adjustability eliminates one of the most common causes of fatigue and discomfort in manual blasting, thus enabling multiple operators to work more productively.

Extra large armholes with attached shoulder-length gloves allow uninhibited movement during use of the blast cabinet. The finishing enclosure has a full width side-hinged front door, a top-hinged front door to simplify loading of over-sized work pieces, as well as a slam shut side door for quick access to the cabinet interior. Fork lift channels are provided to facilitate relocation of the cabinet.

Media and dust extracted from the bottom of the blast cabinet are pneumatically conveyed through flexible ducting to an efficient cyclone separator and media reclaimer mounted above the pressure vessel. Reusable shot or grit that is separated in the tunable cyclonic reclaimer settles into an accumulation chamber on top of the system's pressure vessel. Recharging of the pressure vessel with media takes place automatically when the operator stops blasting by releasing the footswitch.

The option of an extra large 3 cubic foot capacity pressure vessel permits many minutes of continuous blasting without the need to recharge media. The rate of media flow is easily adjustable by means of a metering valve that can be supplied with an extremely abrasion resistant boron carbide plunger and seat.

Accessories available for the Model 8-AH pressure-blast cabinet include a Lazy Susan turntable for improved access when blasting large or heavy components, rubber lining of the cabinet and cyclone to protect against abrasive media, boron carbide blast nozzles, and a replaceable inner abrasion window in a quick-change frame.

Prospective users of Guyson cabinet-blast systems are encouraged to submit sample components for free laboratory testing and application engineering evaluation at the machine builder's factory in northeastern New York State.

CONTACT FOR MORE DATA:
J. C. Carson
518-587-7894 jccarson@guyson.com

More from Electrical Equipment & Systems