Presses offer infinitely adjustable stroke length.
Press Release Summary: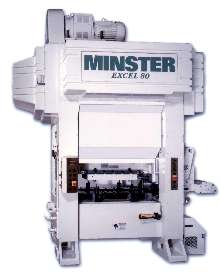 Presses ranging from 80-600 tons are offered with adjustable stroke feature. Adjustment can be from .5-6 in. for high-speed machines and 4-14 in. for larger machines. Power barring apparatus provides precise positioning of crankshaft during stroke length change, and allows full tonnage micro-inching of press for die set-up and troubleshooting when not being utilized for stroke change.
---
Original Press Release:

Minster Offers Infinitely Adjustable Stroke Length


MINSTER, OH -- Every application can now fit your Minster press like a glove.

The Minster Machine Company has recently announced the availability of an adjustable stroke feature for presses ranging from 80 to 600 tons.

"The new patented stroke adjustment feature allows the customer to change their stroke length infinitely between a short and long stroke range," said Greg Stueve, Director of Press Products for The Minster Machine Company. "The stroke length change is a pushbutton operation, which results in quick and easy adjustment capability."

Choosing the optimum stroke length for a particular die and application allows the user to take advantage of higher production speeds, reduced punch forming velocity and lower impact: forces, which results in reduced vibration levels, longer tool life and more consistent parts.

Ranges of Minster's adjustment feature can be from .5" to 6" for high speed machines and 4" to 14" for larger machines, however, a variety of ranges are available depending on the press size and tonnage.

The new Minster feature includes a power barring apparatus for precise positioning of the crankshaft during the stroke length change. This power barring design has also added the feature of full tonnage micro-inching of the press for die set-up and troubleshooting when not being utilized for the stroke change.

"In conjunction with Minster's Production Management Control, users have the ability to enter a particular tool number and the control will automatically set the proper stroke length and shutheight," Stueve said. "This quick and easy changeover ability allows for increased efficiency and uptime of equipment."

The design of the stroke length change feature eliminates the potential for fretting, providing the user with the ability to make long production runs without concern for being able to make a future stroke adjustment.

Minster will be displaying this new technology on an Excel 80 high speed press at an open house in September at the Bihler Company in Halblech, Germany. The Excel 80- is capable of running at 1000 strokes per minute with a .59"/15mm stroke and 600 stokes per minute with a 1.77"/45mm stroke.

The Excel 80, the first production press equipped with the infinitely adjustable stroke length feature, will be delivered to an Italian customer following the Bihler open house and European introduction.

"The introduction of this new product indicates Minster's continued commitment toward product research and development," said Executive Vice President of Sales, Marketing and Customer Service David Winch. "Minster has introduced 14 new products in the last five years as we continue to advance in the material forming industry.

For additional information or an invitation to Bihler's open house, please contact The Minster Machine Company at 419-628-2331 or by email at sales@minster.com.

More from Material Handling & Storage