Presses are offered with infinitely adjustable stroke.
Press Release Summary: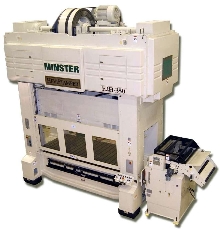 Series E2H, P2H, and HB can be equipped with optional Infinitely Adjustable Stroke mechanism that lets users change stroke length via push-button operation. Mechanism features power barring apparatus for precise positioning of crankshaft during stroke length change that can also be used for micro-inching of press as well as die set-up and troubleshooting. Depending on press size and tonnage, stroke can be set from 15-150 mm to 85-400 mm.
---
Original Press Release:

Infinitely Adjustable Stoke Ships On E2H Press


MINSTER, OH ~~ You can now get more production, more versatility and more value than ever before out of your Minster E2H press.

Minster recently shipped its first E2H press equipped with the optional Infinitely Adjustable Stroke mechanism. This option is now available on all E2H, P2H and HB series presses.

"The new patented stroke adjustment feature allows the customer to change their stroke length infinitely between a short and long stroke range," said Greg Stueve, Director of Press Products for The: Minster Machine Company. "The stroke length change is a push-button operation, which results in quick and easy adjustment capability."

Choosing the optimum stroke length for a particular die and application allows the user to take advantage of higher production speeds, reduced punch forming velocity and lower impact forces, which result in reduced vibration levels, longer tool life and more consistent parts.

"The primary benefit of the Infinitely Adjustable Stroke is the ability to dramatically increase and optimize production from job to job while utilizing the same press," Stueve said. "When you go from a job requiring a long stroke to an application that utilizes a shorter stroke, you can shorten the stroke on the press, increase the speed, and in some cases double your production."

Ranges of Minster's adjustment feature can be from 15 mm to 150 mm for high speed machines and 85 mm to 400 mm for larger machines, however, a variety of ranges are available depending on the press size and tonnage.

The new Minster feature includes a power barring apparatus for precise positioning of the crankshaft during the stroke length change. This power barring design has also added the feature of micro-inching of the press for die set-up and troubleshooting when not being utilized for the stroke change.

"In conjunction with Minster's Production Management Control, users have the ability to enter a particular tool number and the control will automatically set the proper stroke length and shutheight." Stueve said. "This quick and easy changeover ability allows for increased efficiency and uptime of equipment."

For additional information about the Infinitely Adjustable Stroke option, or about any of Minster's products and services, contact your nearest Minster Representative or Minster direct at 419-628-2331. You can also visit Minster online at www.minster.com.

More from Machinery & Machining Tools