Press-Fit Torque Inserts offer One-way motion feature.
Press Release Summary: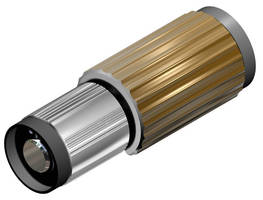 TI-340 torque inserts are available with One-way motion feature that eliminates almost all torque required to move insert in one direction. This promotes reliable holding force for torque insert in one direction and enables facilitated adjustment in opposite direction with virtually no resistance. Delivering torque capabilities from 17.7–44.3 lb-in. (depending on model), products also feature ReellTorq® clip technology for smooth and precise position control as well as consistent torque.
---
Original Press Release:

Reell's Exclusive 'One-way' Motion Feature Newly Available as Option for Patented TI-340 Torque Inserts



A unique "One-way" motion feature developed and engineered exclusively by Reell Precision Manufacturing is now available as an option for Reell's patented TI-340 torque inserts.  This advanced patent pending "One-way" technology eliminates almost all the torque required to move the insert in one direction without compromising holding force in the other.  This ultimately results in reliable holding force for the torque insert in one direction and the capability for easy adjustment in the opposite direction with virtually no resistance.



Reell's TI-340 torque inserts integrating the optional "One-way" feature join a growing portfolio of advanced positioning and pivoting technology solutions designed to outmaneuver conventional hinges in performance, ease of use, service life, and appearance.  The inserts can enable reliable, precise, and controlled positioning of equipment and components for a wide range of hinging applications, including access panels, computer peripherals, equipment guards, flat panel monitors, industrial enclosures, medical and office equipment, automotive accessories, and architectural lighting fixtures, among many others.



TI-340 inserts generate the highest torque available in the marketplace for their size by delivering torque capabilities ranging from 2.00 N-m / 17.7 lb-in to 5.00 N-m / 44.3 lb-in, depending on model.  They further benefit from patented ReellTorq® clip technology, which imparts a premium quality feel, smooth and precise position control, and consistent torque in service.



One-step installation is quick and easy by press fitting the torque insert into a round hole – without the use of any mounting hardware.  Designers can choose from among several mounting profiles, including a recently introduced dual-ended attachment configuration.



Detailed specifications and CAD models can be accessed at www.reell.com and custom products can be developed to meet particular application demands.



Contact John Schannach, Reell Precision Manufacturing Corporation, 1259 Willow Lake Boulevard, St. Paul, MN 55110-5103 USA.  Phone: 651-486-3333; Fax: 651-484-3867.  Email: info@reell.com  Web site:  www.reell.com

More from Material Handling & Storage