Press-Fit Edgecard Connectors suit high-cycle applications.
Press Release Summary: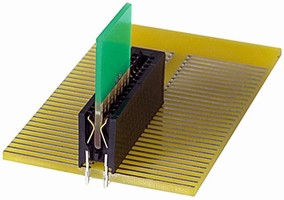 Double-row, .100 in. contact centerline connectors use black PBT insulators and phosphor bronze, gold-plated (30 µin.) contacts in configurations from 5/10-60/120 to ensure signal integrity. Suited for use as backpanel connectors, products feature high-density .100 in. spacing on 0.062 in. daughterboards and support 0.093-0.125 in. thick motherboards. RoHS-complaint, solderless connectors have current rating of 3 A per contact pair and come with or without scoops.
---
Original Press Release:

Sullins' Edgecard Portfolio Now Features Press-Fit Terminations for High-Reliability/High-Cycle Applications



Double-Row, .100" Contact Centerline Connectors Are 100% RoHS-Compliant

San Marcos, CA, June 6, 2006...Sullins Electronics, Inc., a global leader in the design and manufacture of board level interconnects, today announced the addition of pin compliant solderless press-fit edgecard connectors to satisfy OEMs' and assembliers' requirements for improved manufacturing yields and assembly efficiencies. Offering an excellent quality/cost ratio, the .100" contact centerline connectors boast exceptionally rugged insulators together with gold-plated contacts to ensure the durability of signal integrity in high-cycle applications. Press-fit edgecards feature high-density .100" spacing on 0.062" daughterboards, and support 0.093" (2.36 mm) to 0.125" (3.18 mm) thick motherboards. These robust parts join Sullins' 100% RoHS-complaint portfolio of edgecards, headers, CompactPCI(TM), and bi-level connectors, along with their lineup of parts designed specifically for high-temperature applications.

Providing among the industry's most reliable connections, Sullins' solderless press-fit edgecards are ideal for employment as backpanel connectors as they eliminate the challenges that often arise when thicker, multilayer PCBs with a high copper content are subjected to the high temperatures essential for conventional or wave soldering. Accordingly, the UL Recognized parts may be confidently specified for the widest range of high-reliability/high-cycle applications in which the circuit connection of a PCB to a high-density daughterboard is required. Among their uses are in such general industrial, commercial and consumer applications as security systems, and computer peripherals.

Provided standard with phosphor bronze, gold-plated (30 microinch) contacts to insure high-cycle life, edgecards are available with contacts in configurations ranging from 5/10 to 60/120. The press-fit connectors further feature black PBT insulators, and a current rating of 3 Amp per contact pair. Additional specifications include an operating temperature rage of -65 degrees C to +125 degrees C, and insertion force of 16 ounces max. per contact pair. Parts may be ordered with-or-without scoops, and with a choice of tail lengths. A broad range of mounting styles, plating and keying options, and customization is also available. To learn more about Sullins' press-fit edgecard connectors, visit http://sullinselectronics.com/Pressfit.

Average pricing for Sullins' press-fit edgecard connectors ranges from $0.53 to $0.83 per contact pair in production quantities. Delivery is 3 to 4 weeks ARO.

About Sullins Electronics, Corp.
Headquartered in San Marcos, CA, Sullins Electronics, Corp. (www.SullinsElectronics.com) has been a world leader in the design, engineering, and manufacturing of high-quality edge cards and headers since 1971. The Company provides the industry's widest selection of UL/CUL approved edgecards, and additionally offers product development services together with engineering support. Sullins' edgecards, headers, bi-level and CompactPCI connectors are widely specified for use in mission-critical applications by a broad spectrum of leading industrial, commercial, military and consumer products manufacturers. Sullins' connectors and interconnect systems are offered through a global network of sales representatives and distributors.

Sullins Electronics, Corp.
801 E. Mission Road
San Marcos, CA 92069
888/774-3100; Fax: 760/744-6081
www.SullinsElectronics.com

Contact: Soussan Sullins, sas@edgecards.com

More from Electrical Equipment & Systems