Press Feeders offer high-speed part handling.
Press Release Summary: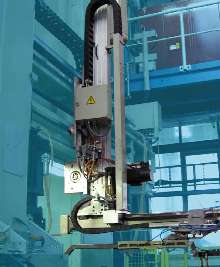 Whiplash(TM) telescopic press feeders handle small to large-sized parts with payload capacity ranging from 88-330 lb and Y-axis accelerations from 10-12.5 m/s². Each 2-axis unit functions as press loader, press unloader, destacker feeder, and pick and place device. Whiplash feeders use servo-driven, belt lifter that is integrated with rack-and-pinion drive telescopic shuttle arm. They can be mounted to fixed press bridge, free-standing frame, or traversing bridge.
---
Original Press Release:

Strothmann Whiplash(TM) Telescopic Press Feeder Offers High Speed Part Handling


CAMBRIDGE, Ont., Canada, March 29, 2004 - ATR-Strothmann has announced the availability of its Whiplash(tm) series of telescopic press feeding systems developed for handling of small to large-sized parts with a payload capacity ranging within the series from 88 lbs. (40 kg) to 330 lbs. (150 kg) and y-axis accelerations from 10 to 12.5 m/s2.

Each of the two-axis Whiplash feeders function as a press loader, press unloader, destacker feeder, and as a pick and place device for machine tending. Whiplash provides an inexpensive solution for automating a complete press line load/unload operation. In addition, when combined with additional axes, it can be used for part stacking, palletizing and other tasks.

Whiplash uses a servo-driven, belt lifter that is integrated with a rack-and-pinion drive, telescopic shuttle arm. The shuttle has a tooling carriage plate that adapts to an offset master tool that can accept a wide variety of end effectors. Whiplash can be mounted to a fixed press bridge, a free-standing frame, or a traversing bridge to offer even more flexibility.

Whiplash is available in three standard models:
o The SMALL SRT 2/020 with a maximum y-axis stroke of 78 inches (2000 mm), and a typical z-axis stroke of 31 inches (800 mm), payload of 88 lbs. (40 kg). Maximum acceleration is 12.5 m/s² in y and 3.3 m/s² in z. Z-axis maximum velocity is 10 m/s;

o The LARGE SRT 2/085 with a maximum y-axis stroke of 138 inches (3500 mm), and a typical z-axis stroke of 31 inches (800 mm), payload of 330 lbs. (150 kg). Maximum acceleration is 10 m/s2 in y and 7.5 m/s² in z. Z-axis maximum velocity is 4.7 to 7 m/s;

o And the larger SRT 2/150, which offers the same performance of the 2/085 with a longer y-stroke of 177 inches (4500 mm).

There are also various options available on all models. In addition, a new model is being designed to offer an added level of service in-between the small SRT 2/020 and the large SRT 2/085-2/150. It will be introduced at this Fall's EUROBLECH trade fair in Hanover, Germany, as a part of a vision-based centering station exhibit at the ATR-Strothmann pavilion.

ATR-Strothmann develops and markets industrial automation, information and vision system solutions as well as manufacturing linear and rotary robotic components and systems used in handling of a variety of materials in multiple process applications. A subsidiary of G. Siempelkamp GmbH & Co. Group of Krefeld, Germany, ATR-Strothmann serves a global base of customers including Boeing, BMW, DaimlerChrysler, Collins & Aikman, Ford, Magna, Molson Breweries, Procter & Gamble and Weyerhaeuser.

Within North America, ATR-Strothmann is represented by Industry-Scope (Grand Blanc, Mich.), a strategic consulting, marketing communications and manufacturer's representative firm, focused on supplying the needs of automotive companies and their supply partners. For more information, visit www.industry-scope.com.

Find more information on ATR-Strothmann at www.strothmann.com

More from Software