Press Brake Series uses 4-cylinder technology.
Press Release Summary: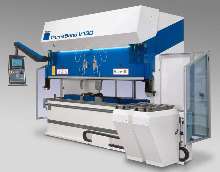 Equipped with graphic-interactive interface, TrumaBend V Series press brakes apply press force uniformly to press beam and tool. Tonnage is measured in kilonewtons, and repeat accuracy is rated at 5 µm. Equipment can reach up to 519 ipm on upstroke and downstroke with same motor power. Backgauge system and bending aid are equipped with measuring system, and rapid pressing function during sheet hemming reduces cycle time.
---
Original Press Release:

Improved, Higher-Performance Press Brake Series to be Introduced at FABTECH 2004


FARMINGTON, Conn., June 28, 2004 --TRUMPF will introduce an updated and improved version of its popular TrumaBend V Series line of press brakes at the FABTECH 2004 trade show in Cleveland, Ohio. New four-cylinder technology developed by TRUMPF replaces bulky hydraulic cylinders and provides more bending space, superior accuracy, and even higher productivity. New models in this series will indicate the machine's press tonnage in kilonewtons, for example TrumaBend V 1300.

"Every car driver knows that more cylinders mean smoother engine functioning and higher performance," says James Rogowski, product manager for bending and automation at TRUMPF Inc. "The same principle holds true for the new TrumaBend V Series."

Additional cylinders create higher levels of precision since the press force is applied uniformly to the press beam and tool. Also, greater cylinder surface improves oil cooling and yields higher speeds with minimal heat input. As a result, the repeat accuracy doubles to 5 µm (microns).

Cycle time for a component drops by up to 30 percent with the new V Series. The machine can reach up to 519 inches per minute on the upstroke and the downstroke - with the same motor power.

"The TRUMPF backgauge system and the bending aid are equipped with a complete measuring system that makes referencing obsolete," adds Rogowski. "The press brake is immediately operational as soon as it is turned on. Also, the 'rapid pressing' function during sheet hemming greatly reduces the cycle time."

Another highlight of the new press brake control is an identical screen interface throughout the bending process. Operators use the same interface whether they are using the ToPs 600 programming system for PC programming or preparing work directly at the machine.

The graphic-interactive interface of the TRUMPF control and the ergonomic control panel were created for quick and easy programming. Using a logical and self-explanatory design, the control contains information on material management, divides the tools into individual modules, generates the setup plan, and then calculates the bending sequence, including a collision check.

TASC (TRUMPF Advanced Specialized Control) 6000 also allows for better integration of angle measurement system functions. The user can now read the bending results directly at the monitor. Available ACB (Automatically Controlled Bending) functions are now doubled to eight.

"The way in which the angle measurement system is attached has been improved in two ways," explains Rogowksi. "One, it is attached to a contact bar above the upper tool holder. Two, an intelligent connector plug has replaced the sensor box, which means that the measuring system no longer represents a disruptive contour for the bending process."

Improvements have also been made to the lower tool holders. Separately controllable clamping pistons now attach the tools instead of a clamp bar. They also hold short part sections extremely well.

"With the new V Series machines, high-precision parts can be fabricated with an even higher level of productivity," says Rogowski. For more information on TRUMPF's new line of V Series press brakes, please contact James Rogowski, product manager for bending and automation at TRUMPF Inc., at 860-255-6033 or james.rogowski@us.trumpf.com

TRUMPF is one of the world's largest producers of fabricating machinery and a world market leader in lasers used for industrial production technology. Additional company information is available at: www.us.trumpf.com

More from Agricultural & Farming Products