Press Brake features open- and closed-loop control.
Press Release Summary: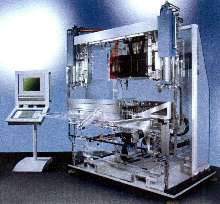 Press Brake includes interdisciplinary drive and control concept using matched components. Functional components of hydraulics include power units, manifolds, valves, cylinders, and electronics. Hydraulic power unit comprises motor/pump, manifold, and oil reservoir. Cylinders provide maximum operating pressure of 4,500 psi. Electronics and synchronization are provided by HNC 100 digital axis control. Press Brake is available with 3-Manifold or Central Manifold version.
---
Original Press Release:
Hydraulic Drive, Open- and Closed-Loop Control Technology Characterize Rexroth Press Brakes

Company will demonstrate press brake technology at IMTS 2002, September 4-11, 2002 at McCormick Place in Chicago, Booth #4222

Generating large forces, reaching high speeds, performing fast movements and approaching positions precisely, a press brake has been designed by the Industrial Hydraulics division of Bosch Rexroth that includes an interdisciplinary drive and control concept using matched components to ensure technically and economically optimized working sequences.

In developing a press brake solution, Rexroth's functional components of hydraulics include the power units, manifolds, valves, cylinders, and electronics.

The hydraulic power unit comprises the motor/pump unit, manifold, and oil reservoir. The manifold is used for controlling and monitoring the hydraulic functions of a press brake. To meet the requirements of different design solutions in terms of pressing force and thus the size of a press brake, Bosch Rexroth developed a 3-Manifold and Central Manifold version.

In the 3-Manifold version, there are two main manifolds with associated prefill valves for mounting directly on the cylinder and a pump control block. This version is very common as it drastically reduces required piping.

In contrast to the 3-Manifold version, the Central Manifold version features all valves except for the prefill valves mounted on one manifold. This variant is mainly used for presses with a pressing force up to 145 tons, or when the height of the press must not exceed a specific dimension.

Press brake valves include the 4 WREE proportional valve, WE6 switching valve, SFA and ZSF prefill valve, and DBETE proportional valve.

Optimized Rexroth cylinders for press brakes provide a maximum operating pressure of 4500 PSI: special friction-free seal design in servo quality; special design for mounting a prefill valve or a manifold; seal installation spaces according to ISO/DIN standards; heavy-duty seal rings absorb perpendicular forces; hardened piston rod, ground and polished.

Press brake electronics and synchronization are provided by the Rexroth HNC 100 Series 2X. The HNC 100 digital axis control is a compact and freely programmable bus-capable NC control for electromechanical and electrohydraulic drives.

Bosch Rexroth Corporation, a merger of Bosch Automation Technology and Rexroth, is a wholly owned subsidiary of Robert Bosch GmbH. In the year 2001 the separate companies had total revenues of approximately $3.42 billion (3.86 billion Euros) and a worldwide total of around 26,000 employees. Divisions include Industrial Hydraulics, Electric Drives and Controls, Linear Motion and Assembly Technologies, Pneumatics, Service Automation and Mobile Hydraulics. Bosch Rexroth - The Drive & Control Company - offers comprehensive solutions for drives and motion control in 80 countries around the world.

Aaron Weida

Bosch Rexroth Corporation

Industrial Hydraulics

2315 City Line Road

Lehigh Valley, PA 18002-5407

Telephone (610) 694-8298

Fax (610) 694-8339

[email protected]

Bosch Rexroth Corporation, Larry Foy, Corporate Communications

5150 Prairie Stone Parkway, Hoffman Estates, IL 60192, www.boschrexroth-us.com