Press Brake Control helps meet CSA safety standard Z142-02.
Press Release Summary: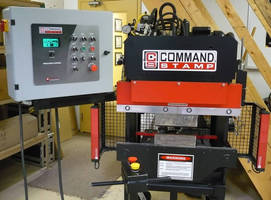 Connecting together all of safety guards and monitoring devices on both hydraulic and mechanical press brakes with diverse redundancy, COMMAND STAMP helps to verify and maintain safe press brake operations. CSA/UL approved unit is offered with software customization to suit specific production processes and can be used to upgrade both new and existing press brakes.
---
Original Press Release:
Reflex Announces Final Production Release of Command Stamp Press Brake Control
May 6th, 2009 (Newmarket, Ontario) Reflex Integration Inc. today announced the final production release of their new Press Brake Control unit which improves the safety of Press Brake operations in compliance with the CSA Safety Standard Z142-02. This press brake controller is called the COMMAND STAMP and ties together all of the safety guards and monitoring devices on both hydraulic and mechanical Press Brakes with diverse redundancy in order to verify and maintain safe Press Brake operations. Several initial installations of the COMMAND STAMP Press Brake Control have all been successfully completed resulting in today's press release and announcement of the final production release of the COMMAND STAMP Press Brake Control. Also of significance to press brake operators is the ability for these units to have advance software customization completed by Reflex Integration to tailor the use of the Press Brake Control to the specific production processes of customers to avoid any loss of productivity through the addition of this advanced safety device to your Press Brake. This unit represents a cost effective way to upgrade both new and older press brakes to meet this updated standard and Reflex has already received third party engineering certification of the COMMAND STAMP's compliance with this standard. Additionally, the unit has already received CSA/UL Approval and can be purchased with or without installation. About Reflex Integration "Reflex Integration is the manufacturer of the Command Stamp Press Control a cost effective, control reliable press control solution for all types of presses and press brakes whether mechanical, hydraulic or pneumatic and is now installed on more than 450 presses in Canada, the United States and Mexico." Visit Reflex Integration on the web at www.reflexintegration.com or through Twitter via @Reflex_ For more details on the Command Stamp Press Brake Control unit or to request a presentation or demonstration, please contact Jeff Ashcroft at (905) 836-8103 or via email through jeff@reflexintegration.com
More from Sensors, Monitors & Transducers