Presentation Imager reads bar codes at over 200 cm/s.
Press Release Summary: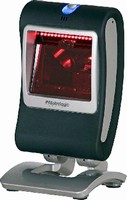 Engineered to decode all standard printing and electronic 1D, PDF, and 2D matrix codes, MS7580 Genesis ELITE features 4 dedicated memory banks, each one storing configuration settings for RS232, keyboard wedge, USB, and 46xx RS485 interfaces. Unit is suited for form auto-population and age verification in retail, medication verification and document management in health care, part and shipment tracking in manufacturing, and boarding pass and ID verification in transportation.
---
Original Press Release:

Metrologic's MS7580 Genesis Begins New Era in Bar Code Reading



Compact Area Imager is Initial Offering from Company's ELITE Line

Blackwood, New Jersey-December 14, 2007 - Metrologic Instruments, Inc. announced today the release of the MS7580 Genesis, a presentation imager engineered to decode all standard printed and electronic 1D, PDF and 2D matrix codes. As the first product released under the Metrologic ELITE brand (see below), Genesis signals the company's move to producing devices that tie advanced engineering with elegance, performance and reliability. Available worldwide, orders will begin shipping immediately.

"Everything about Genesis, from its single-board construction to its carefully calibrated stand tension, speaks to the elegance and attention to detail associated with our ELITE brand," explained Mark Schmidt, Metrologic's vice president of product management and marketing. "Delivered in a stylish, fullcolor package, Genesis carries the Metrologic ELITE badge and will be offered with our new extended warranty options."

Genesis meets the market's need for a bar code reader that keeps pace with the growing prevalence of PDF, Data Matrix and QR bar codes, including those displayed on a mobile phone screen for emerging applications like digital boarding passes, event tickets or mobile coupons. Metrologic drew upon its years of expertise in imaging technology to execute a design capable of satisfying a wide range of applications in a variety of industries, including:
Retail
o Form Auto-population (PDF codes)
o Age Verification (PDF codes)
o Mobile Couponing (Data Matrix & QR codes)
Health Care
o Medication Verification (Data Matrix codes)
o Document Management (Data Matrix codes)
Manufacturing
o Part Tracking (Data Matrix codes)
o Shipment Tracking (Data Matrix codes)
Transportation
o Boarding Pass & ID Verification (PDF codes)
o Invoice Scanning (PDF codes)

In designing Genesis, Metrologic capitalized, as well as expanded, its extensive patent portfolio.

Genesis excels at reading very high density linear and matrix bar codes. The device's superior motion tolerance supports aggressive pass-though scanning of UPC and PDF bar codes at speeds over 200 centimeters per second.

"Conflicting requirements arise when using digital imaging to capture quickly moving bar codes: one must apply a lot of light, which in an attended environment can be very disturbing," said Schmidt. "Genesis solves this problem with its unique illumination and high-sensitivity opto-electronics. The result of our market research, customer feedback and countless engineering advances has resulted in a product so superior, businesses using Genesis will be perceived as smart and sophisticated. Metrologic ELITE and Genesis are going to change people's perceptions about bar code readers."

Ready to use right out of the box, Genesis eliminates asset management complications in mixed-estate host system environments. With four dedicated memory banks, each one storing full configuration settings for its RS232, keyboard wedge, USB and 46xx RS485 interfaces, a simple cable change automatically loads the proper configuration with no need for additional programming bar codes. Genesis also features TotalFreedom(TM), Metrologic's open-system architecture that offers unlimited possibilities for developing value-added custom application modules embedded directly into Genesis instead of the host system.

For an interactive product tour, visit our website at metrologic.com/MS7580.

About Metrologic
As Metrologic Instruments, Inc. celebrates its 40th anniversary, it continues to be a global supplier of choice for data capture and collection hardware and software. Metrologic delivers innovative products that are reliable and supported by a superior level of personal service. Metrologic products are sold worldwide through sales, service and distribution offices located in North & South America, Europe, Australia and Asia. For more information, please visit Metrologic.com.

More from Fluid & Gas Flow Equipment