Premium German Energy Bars Wrapped in Metallised Compostable Packaging Film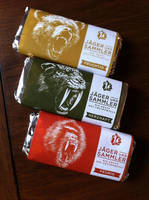 A German brand, Jäger und Sammler, has chosen Innovia Films' compostable flexible material, NatureFlex™ as the packaging for its range of premium energy bars.



Founded earlier this year in Berlin by Janine König and Ivan Perez, Die Kraft des Urstromtals "The Force of the Glacial Valley" was set up to develop, produce and market energy food. The company name originates from the fact that Berlin is located within an ancient glacial valley that carved out the landscape many thousands of years ago.



NatureFlex™ was an obvious choice for the packaging as the film begins life as a natural product – wood and breaks down in a home compost bin (or industrial compost environment) within a matter of weeks – yet also offers advantages for packing and converting such as inherent deadfold and anti-static properties, resistance to grease and oil, good barrier to gases, aromas and mineral oils and a wide heat-seal range.



Outlining why Die Kraft des Urstromtals selected NatureFlex™, Ivan explained:



"As our Jäger und Sammler bars are 100% organic, the wrapping should also have cutting edge characteristics. Innovia Films' NatureFlex™ fits the bill perfectly for us. The compostability of this film in combination with it being manufactured from renewable resources is exactly what we were looking for in our approach towards healthier food where no harm is caused to the environment"



Jäger und Sammler energy bars are gluten-free and contain no added preservatives or flavor enhancers. They are available in three flavours – fruity (suitable for vegetarian diets), fiery (suitable for vegan diets) and hearty and combine a well-balanced mix of high nutrients with digestible carbohydrates, vitamins, essential fat and proteins. The hearty variety contains red deer jerky. It is the first energy bar in Europe to introduce dry meat suitable for paleo (extreme high protein) diets.



NatureFlex™ films are certified to meet the American ASTM D6400, European EN13432 and Australian AS4736 standards for compostable packaging. The wood-pulp is sourced from managed plantations. The renewable biobased content of NatureFlex™ films is typically 95% by weight of material according to ASTM D6866.



"We are delighted that our compostable film, NatureFlex™, is helping meet not only our customer's needs from a packaging perspective, but also supporting the ethos behind the creation, development and marketing of the Jäger und Sammler energy bars," commented Joachim Janz, Sales Account Manager, Innovia Films.