Premier Label Provider SixB Labels Installs Second Epson SurePress L-4033AW Digital Label Press to Enhance Labeling Solution Workflow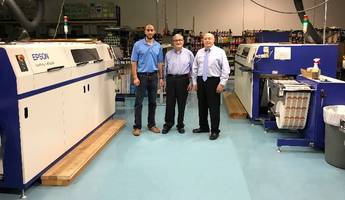 LONG BEACH, Calif. – March 5, 2018 – Epson America, Inc. today announced SixB Labels, the premier source for labels, decals and bar codes in the Southwest, has purchased and installed its second Epson SurePress® L-4033AW digital label press to meet increasing customer demands in the graphic, manufacturing, food, service, beauty, and health industries. SixB Labels purchased its second Epson digital label press for its wide range of full-color label capabilities to produce semi-gloss and BOPP labels, as well as to expand its short-run label printing offerings to customers.
"Epson's SurePress L-4033AW is a valuable tool for our business," said Fari Bakhshian, president, SixB Labels Corporation. "We decided to purchase a second SurePress because of its expansive label printing capabilities and how it allows us to produce smaller runs with less waste, helping us to decrease production time and reduce costs."
SixB Labels received a Premier Print Award from Printing Industries of America for labels created on the SurePress L-4033AW for Texas-based customer Central Market. The "Best of Category Digital Printing: Tags and Labels" winner features the photographic-oriented Central Market Iced Tea Jug Labels for placement on metal tins. "The amount of detail on the labels printed by the SurePress was tremendous," said Bakhshian. "We printed a smaller run for Central Market and decided to submit their Hibiscus Mint tea labels for the award, which we were honored to receive. The Hibiscus Mint was also only the beginning, as the project lent itself to multiple label variations created on the SurePress – House Black, Mango and Texas Gold Iced Teas – with labels including clear and colorful imagery of ingredients."
Designed for prime label converters and commercial printers, the Epson SurePress L-4033AW is an easy-to-operate, seven-color inkjet digital label press with White ink for high-quality, short-run label printing, even on clear and metallic substrates. Delivering exceptional print and color quality, as well as innovative features, the L-4033AW allows printers to expand their service offerings.
Driving the SurePress L-4033AW is the included Wasatch RIP and Print Management Software. The Wasatch SoftRIP is a sophisticated RIP solution that provides superior color management options, efficient layout features, intuitive workflow tools, variable data printing, and contour cutting, all while producing excellent quality color.
"We are thrilled that SixB Labels has once again chosen Epson's SurePress to enhance its workflow and meet its label printing needs," said Mark Elsbernd, North American Western region sales manager, Epson America, Inc. "Dedicated to providing customers with the most efficient and reliable printing performance, Epson's digital label press delivers industry-leading precise quality with decreased production time, waste, and costs, making it the ideal label press for all business needs."
About Epson SurePress L-4033AW:
High Quality Labels: Epson MicroPiezo® ink jet technology with variable-size droplets provides ultra-precise drop formation and placement to deliver smooth gradations, remarkable color quality, and sharp detail
Industrial Quality Inks: Seven-color (Cyan, Magenta, Yellow, Black, Orange, Green, and White), water-based, inks produce a remarkable range of colors for impressive results
Versatile Substrate Support: Prints on a range of standard, off-the-shelf materials including gloss, semi-gloss, matte, film, clear, and metallic substrates
For additional information, visit www.epson.com/surepress.
For SurePress inquiries in the North American Western region, please contact Mark Elsbernd at 818-620-2730 or mark.elsbernd@ea.epson.com. For SurePress inquiries in the North American Eastern region or Canada, please contact Roy Pagan at 704-560-0049 or roy.pagan@ea.epson.com.
About Epson
Epson is a global technology leader dedicated to connecting people, things and information with its original efficient, compact and precision technologies. With a lineup that ranges from inkjet printers and digital printing systems to 3LCD projectors, smart glasses, sensing systems and industrial robots, the company is focused on driving innovations and exceeding customer expectations in inkjet, visual communications, wearables and robotics.
Led by the Japan-based Seiko Epson Corporation, the Epson Group comprises more than 80,000 employees in 86 companies around the world, and is proud of its contributions to the communities in which it operates and its ongoing efforts to reduce environmental impacts.
Epson America, Inc., based in Long Beach, Calif., is Epson's regional headquarters for the U.S., Canada, and Latin America. To learn more about Epson, please visit: epson.com.
More from Fluid & Gas Flow Equipment