Pregis's Hybrid Cushioning Packaging Film features multiple air chambers.
Press Release Summary: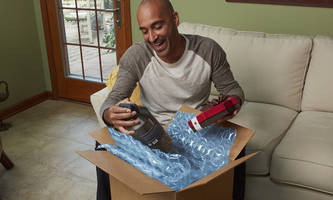 Pregis's Hybrid Cushioning (HC) Packaging Film is offered in 12 in. width and is suitable for cushioning, blocking/bracing and wrapping applications. Film comes with air chambers with square patterns. This film is mounted onto Pregis' AirSpeed® HC Versa™ system that provides rows of small air-filled pockets when the air is transferred between individual chambers.
---
Original Press Release:
Pregis Launches Inspyre Protective Packaging with Color Options to Support Brands, Create Curated Unboxing Experiences
Pregis LLC is introducing Inspyre, a protective packaging brand with a spectrum of color possibilities to help enhance the customer experience and also provide visual support for cause marketing and/or charitable campaigns.
"As e-commerce continues to grow, brands have less opportunity to physically connect with their customers, oftentimes making the first connection when the product is delivered. In most cases, that product is wrapped with packaging that's clear or neutral, offering the protection needed, but not really enhancing the unboxing experience," explained Clint Smith, product manager, Pregis. "Inspyre changes that by using color to heighten the connection between the brand and the consumer."
The first product Pregis is offering under the Inspyre brand is its 12-inch wide, low-density polyethylene hybrid cushioning (HC) packaging film. The initial stock color offering will be water blue. A wide array of custom colors will also be possible.
"For many of us, opening a delivered package evokes the same kind of excitement that used to only happen when opening a gift. It's why so many people capture their unboxing experiences and share them on social media. Adding more color to the mix is just one more way for brand owners to delight and connect with their customers," said Smith. "We also see curated color options as a way for companies to signal their participation in 'cause' marketing campaigns and other promotions."
The Inspyre brand will also have a charitable component. Pregis will be donating a portion of its water blue stock product sales to an organization it supports.
Hybrid cushioning features multiple air chambers in a proprietary square pattern that provides superior, high-pressure cushioning and a premium aesthetic preferred by consumers. Flat, perforated rollstock is mounted onto Pregis' AirSpeed® HC Versa™ system, which creates the rows of small air-filled pockets as the air is transferred between the individual chambers. HC is ideal for cushioning, blocking/bracing and wrapping.
About Pregis
Pregis LLC is a customer-driven solutions provider of innovative protective packaging materials, equipment systems and surface protection. As a material neutral company, the company works with its customers to find the right solution to solve their business challenges. Pregis serves wide variety of consumer and industrial market segments including food, pharmaceutical, healthcare, medical devices, agricultural, e-commerce, retail, automotive, transportation, furniture, electronics, building, construction, and military/aerospace. For more information: www.pregis.com.
More from Fluid & Gas Flow Equipment